PHENOLOGICAL STAGES: Full flowering: 50% of caps fallen
Edith Byrne, Association Program Educator I
Lake Erie Regional Grape Program
January 8, 2013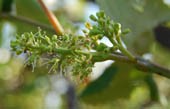 What to be doing (Full flowering: 50% of caps fallen):

Trace Bloom:Bloom:
Row-middle management; Continue disease management protocols
Botrytis spray if average temperature is <60F and there is abundant rainfall
MONITORING REQUIRED: weather parameters of temperature, precipitation and leaf wetness
INOCULUM AVAILABLE FOR INFECTION
Powdery Mildew
Downy Mildew
Phomopsis
Botrytis bunch rot
Black Rot
Postbloom:
Upcoming Events
No upcoming events at this time.
Announcements
Commercial Vehicle Awareness slide presentation
NYS Trooper, Matt Luft, presented on Commercial Vehicle Awareness at CLEREL on Thursday, August 2nd. He has given us the permission to share his slides for you to reference at your convenience to share with others or to review. Please reference this link.
Straight Talk: Is H-2A Working Out in the Vineyard
Check out the story below. Our local grower Andy Knight is one of the 3 growers interviewed.
https://www.growingproduce.com/fruits/grapes/how-h-2a-is-working-out-in-the-vineyard/
Spotted Lanternfly Public Service Announcement
Please take a look at this PSA on YouTube. It is narrated by our very own Jennifer Phillips Russo.
If you see a Spotted Lanternfly:
1-Take a photo
2-Collect it
4-Report it
LERGP Podcasts- check them out!
LERGP POD CASTS

Lake Erie Regional Grape Program - Cornell Cooperative Extension
Your Trusted Source for Research-Based Knowledge