Research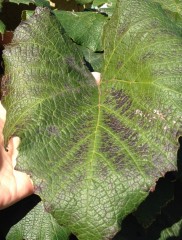 Welcome to Viticulture research in the Lake Erie Grape Production Region.
Along Lake Erie's Southeast shoreline, the land in New York and Pennsylvania quickly rises over 700 feet to the Allegheny Plateau. Sandwiched between the temperature moderating waters of Lake Erie and the 700 foot earthen wall sits a narrow band of land ideal for agricultural fruit production in the Northeastern, U.S. Although also home to the production of peaches, cherries, apples, blueberries, and other fruit crops, agriculture in the region is dominated by grape production with Concord as the main variety. Viticulture research at the Cornell Vineyard Laboratory focuses on improving grape production in this unique region.
Complete Research Spring Content
Local Grower Assists in the Development of Technology for the Lake Erie Concord
Last Modified: July 27, 2017

One of the goals of the Lake Erie Regional Grape Program is to ensure that the research they conduct is useful to grape growers. One way to ensure this happens is to incorporate grower participation into any research project from the very beginning.
Coffee, Donuts and Variable Rate Shoot Thinning - All Part of Efficient Vineyard
Tim Weigle, Team Leader, Statewide Grape IPM Specialist
Lake Erie Regional Grape Program
Last Modified: July 19, 2017


Dr. Terry Bates of the Lake Erie Regional Grape Program (LERGP) at the Cornell Lake Erie Research and Extension Laboratory (CLEREL) was host to an "on-the-fly" variable rate demonstration at the Wednesday, May 10, 2017 LERGP Coffee Pot Meeting.
GPS Technology in Local Vineyards
Kevin Martin, Extension Educator, Business Management
Lake Erie Regional Grape Program
Last Modified: July 19, 2017


Kevin Martin, from the Lake Erie Regional Grape Program (Penn State University), is currently creating baseline economic data to provide regional grape growers with commercialization strategies for spatial vineyard management.
Freeze Damage
Last Modified: February 24, 2015


Lake Erie Grape belt low temperatures in Feb 2015 reached -19 to -29 degrees F and this has caused variable damage to fruiting buds of grapevines. Viticulture Specialist, Luke Haggerty, and the CLEREL staff are evaluating the extent of bud damage from several vineyards across the region.
Adapting Canopy Sensing Systems into Juice Grape Production
James Taylor, Post-Doctoral Fellow
Lake Erie Regional Grape Program
Last Modified: April 10, 2013


The LERGP team at CLEREL are researching and developing methods to incorporate information from high-resolution canopy sensors into Concord (and Niagara) production systems. Two sensing systems are being trialed; the N-Tech GreenSeeker and Holland Scientific CropCircle. These canopy sensors operate by measuring the reflectance of visible (Blue, Green and/or Red) and Near Infra-Red (NIR) light from the leaves. The amount of reflectance is dependent on i) the number of leaves and ii) the health (color and cell structure) of these leaves.
Announcements
Straight Talk: Is H-2A Working Out in the Vineyard
Check out the story below. Our local grower Andy Knight is one of the 3 growers interviewed.
https://www.growingproduce.com/fruits/grapes/how-h-2a-is-working-out-in-the-vineyard/
2023 LERGP Coffee Pot Schedule
2023 LERGP Coffee Pot Meeting Schedule
May 3, 2023 10:00am Double A Vineyards
10317 Christy Rd. Fredonia NY 14063
May 10, 2023 10:00am Niagara Landing Wine Cellars
4434 Van Dusen Rd. Lockport NY 14094
May 17, 2023 10:00am John Schultz & Sons
9510 Sidehill Rd. North East PA 16428
May 24, 2023 10:00am Brian Chess Farm
10289 West Main Rd. Ripley NY 14775
May 31, 2023 10:00am Sprague Farms
12435 Versailles Rd. Irving NY 14081
June 7, 2023 10:00am NO COFFEE POT MEETING
June 14, 2023 10:00am Betts' Farm
7365 East Route 20 Westfield, NY 14787
June 21, 2023 10:00am Paul Bencal Farm
2645 Albright Rd. Ransomville NY 14131
June 28, 2023 10:00am Gary Young Farm
8401 Gulf Rd. North East PA 16428
July 5, 2023 10:00am NO COFFEE POT MEETING
July 12, 2023 10:00am Zach & Alicia Schneider Farm
771 Bradley Rd. Silver Creek NY 14136
July 19, 2023 10:00am Schultze Winery
2090 Coomer Rd. Burt NY 14028
July 26, 2023 10:00am Westfield Ag & Turf
7521 Prospect Rd. Westfield NY 14787
Spotted Lanternfly Public Service Announcement
Please take a look at this PSA on YouTube. It is narrated by our very own Jennifer Phillips Russo.
If you see a Spotted Lanternfly:
1-Take a photo
2-Collect it
4-Report it
LERGP Podcasts- check them out!
LERGP POD CASTS

Lake Erie Regional Grape Program - Cornell Cooperative Extension
Your Trusted Source for Research-Based Knowledge