Newsletters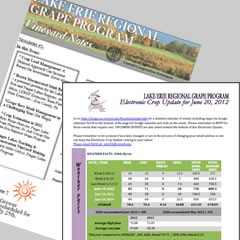 The Lake Erie Regional Grape Program publishes a Newsletter
, The Lake Erie Regional Grape Program Vineyard Notes, monthly during the growing season depending on need. The Newsletter contains timely, pertinent information regarding what is happening in our Region, as well as, a complete list of Upcoming Events. The Newsletter is available online (pdf), and delivered by mail to your home for an additional fee, as part of your membership.
Please access past issues below.

The The Lake Erie Regional Grape Program Electronic Crop Update contains timely articles specific to your needs during each "season", as well as, a list of Upcoming Events that are helpful to our grower membership.
During the growing season the LERGP Team Members contribute to an email Electronic Crop Update that is delivered weekly to your email box. A pdf version is also available that will contain all images, graphs, and figures that might not fit in the email version.
During the winter months the Electronic Crop Update is delivered bi-weekly to your email address.
Please access past issues below.



Archived Electronic Crop Updates
Archived Vineyard Notes Newsletter
Upcoming Events
No upcoming events at this time.
Announcements
My Efficient Vineyard Tool Tutorials
Did you know that the myEV web-site has tutorials on how to use the myEV tool from setting up the account to using it for data collection around your farm, and implementing the use into efficient management of your vineyards?
Recorded Coffee Pot Meetings
You may not be able to obtain Pesticide License Recertification points but you can gain plenty of valuable information by watching the
coffee pot meetings if you missed them! We have had some special guest speakers sharing valuable information with us!
Click the link below for access to all of the recorded LERGP Coffee Pot Meetings!
Recorded LERGP Coffee Pot Meetings
LERGP Podcasts- check them out!
LERGP POD CASTS

Lake Erie Regional Grape Program - Cornell Cooperative Extension
Your Trusted Source for Research-Based Knowledge

Cornell Cooperative Extension is an equal opportunity, affirmative action educator and employer.
If you have a disability and are having trouble accessing information on this website or need materials in an alternate format, contact
web-accessibility@cornell.edu
for assistance.
©2022 by Cornell University. All Rights Reserved
web design and development
by dsd web works