Newsletters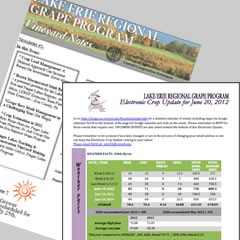 The Lake Erie Regional Grape Program publishes a Newsletter
, The Lake Erie Regional Grape Program Vineyard Notes, monthly during the growing season depending on need. The Newsletter contains timely, pertinent information regarding what is happening in our Region, as well as, a complete list of Upcoming Events. The Newsletter is available online (pdf), and delivered by mail to your home for an additional fee, as part of your membership.
Please access past issues below.

The The Lake Erie Regional Grape Program Electronic Crop Update contains timely articles specific to your needs during each "season", as well as, a list of Upcoming Events that are helpful to our grower membership.
During the growing season the LERGP Team Members contribute to an email Electronic Crop Update that is delivered weekly to your email box. A pdf version is also available that will contain all images, graphs, and figures that might not fit in the email version.
During the winter months the Electronic Crop Update is delivered bi-weekly to your email address.
Please access past issues below.



Archived Electronic Crop Updates
2019 Electronic Crop Updates
2018 Electronic Crop Updates
2017 Electronic Crop Updates
2016 Electronic Crop Updates
2015 Electronic Crop Updates
2014 Electronic Crop Updates
2013 Electronic Crop Updates
2012 Electronic Crop Updates
Archived Vineyard Notes Newsletter
2019 Vineyard Notes Newsletter
2018 Vineyard Notes Newsletter
2017 Vineyard Notes Newsletter
2016 Vineyard Notes Newsletter
2015 Vineyard Notes Newsletter
2014 Vineyard Notes Newsletter
Upcoming Events
Eastern Winery Exposition
March 10 - March 12, 2020

Lancaster, PA
The largest wine and grape trade show and conference east of the Pacific states, EWE will include three single-topic workshops on the first day, followed by two days of multiple sessions on three tracks: enology, viticulture and money/marketing/ management.
Northern Grapes Webinar- Growing Grapes without Glyphosate
March 17, 2020
1:00pm
Lynn Sosnoskie
Assistant Professor - Cornell University
Cornell AgriTech Campus, Geneva, NY
Lynn started as an assistant professor working in Weed Ecology and Management of specialty crops at Cornell AgriTech in September of 2019. Since completing her PhD at Ohio State she has served in research and extension in Wisconsin, Georgia, Washington, and California. Her research primarily focuses on glyphosate-resistant Palmer amaranth and the biology, ecology, and management of bindweed.
2020 LERGP Winter Grape Growers' Conference

March 19, 2020
8:00am-4:30am
Fredonia, NY
Save the date for March 19, 2020 to come join LERGP, fellow growers, special speakers and vendors in a full day of education and camaraderie. A full and diverse agenda and delicious food await! We hope to see everyone there.
Announcements
Save the Date- 2020 Winter Grape Grower Conference
Thursday, March 19, 2020
SUNY Fredonia William's Center
Agenda, Registration and Trade show info available in December
Loaner Sensor Program
The loaner sensor program is an outreach program designed to introduce interested growers to the technology developed by the Efficient Vineyard researchers. It involves a technician from the Lake Erie Regional Grape Program coming out to the farm to install or attach scanners and computers to existing equipment. The subsequent data collection is then completed during normal activity such as pesticide spraying. Once the data is collected it can be sent back to researchers to generate a prescription map. The DualEM soil sensor requires a technician to operate so if you would like to have a soil scan done of your vineyard, please contact the Portland, NY Cornell Extension office and make an appointment.
https://efficientvineyard.com/loaner-sensor-program
LERGP Podcasts- check them out!
http://lergp.com/podcasts/

Lake Erie Regional Grape Program - Cornell Cooperative Extension
Your Trusted Source for Research-Based Knowledge