Current Projects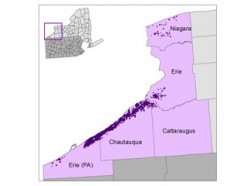 Final reports and results of our research can found throughout this site. But, because some of our work can span several years to gather information, review and summarize our findings, we want to keep you abreast of our current projects. Check back for updates on our progress.
Most Recent Current Projects Summer Content
Local Grower Assists in the Development of Technology for the Lake Erie Concord
Last Modified: July 27, 2017

One of the goals of the Lake Erie Regional Grape Program is to ensure that the research they conduct is useful to grape growers. One way to ensure this happens is to incorporate grower participation into any research project from the very beginning.
Coffee, Donuts and Variable Rate Shoot Thinning - All Part of Efficient Vineyard
Tim Weigle, Team Leader, Statewide Grape IPM Specialist
Lake Erie Regional Grape Program
Last Modified: July 19, 2017


Dr. Terry Bates of the Lake Erie Regional Grape Program (LERGP) at the Cornell Lake Erie Research and Extension Laboratory (CLEREL) was host to an "on-the-fly" variable rate demonstration at the Wednesday, May 10, 2017 LERGP Coffee Pot Meeting.
GPS Technology in Local Vineyards
Kevin Martin, Extension Educator, Business Management
Lake Erie Regional Grape Program
Last Modified: July 19, 2017


Kevin Martin, from the Lake Erie Regional Grape Program (Penn State University), is currently creating baseline economic data to provide regional grape growers with commercialization strategies for spatial vineyard management.
Upcoming Events
LERGP Coffee Pot Meeting #13
July 28, 2021
Please come join the LERGP team for discussion on your vineyards. NY and PA pesticide credits have been applied for.
LERGP IN PERSON Coffee Pot Meeting w/ Lunch
August 3, 2021
Ripley, NY
LERGP In Person Meeting w/ Lunch
Announcements
Assess Your Freeze Damage
Assess Your Freeze Damage with a MyEV data Collector- By Terry Bates
Freeze damage acro
ss eastern U.S. vineyards was highly variable this week depending on the stage of bud development, air temperatures, and vineyard location. Assessing bud damage over the next two weeks will help growers determine the size and variation in crop potential, adjust management practices, and record damage for crop insurance. In this video, Terry Bates shows you how to set up and use a MyEV data collector and a smartphone to collect and map freeze damage observations in your vineyard.
Recorded Coffee Pot Meetings
You may not be able to obtain Pesticide License Recertification points but you can gain plenty of valuable information by watching the
coffee pot meetings if you missed them! We have had some special guest speakers sharing valuable information with us!
Click the link below for access to all of the recorded LERGP Coffee Pot Meetings!
Recorded LERGP Coffee Pot Meetings
Hand sanitizer and Masks Still Available
Hand Sanitizer and Face Masks Still Available
It's not too late! If you haven't picked up your free NYS Clean hand sanitizer and washable Hanes masks, you still can. All farms in New York are eligible to request supplies. Click on this
link
to make the request. We will set up a time for you to come pick up the supplies at CLEREL in Portland.
LERGP Podcasts- check them out!
LERGP POD CASTS
Loaner Sensor Program
The loaner sensor program will not be available this growing season in light of the COVID -19 protocols. We offer our sincere apologies

Lake Erie Regional Grape Program - Cornell Cooperative Extension
Your Trusted Source for Research-Based Knowledge