About Program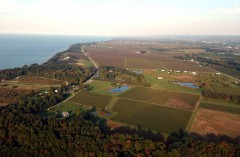 There are approximately 30,000 acres of vineyard in the Lake Erie region of New York and Pennsylvania grown on 840 farms, making this the largest grape growing region outside of California.

Of this acreage, 98.5% consists of Labrusca (American Grape) varieties such as 'Concord' and 'Niagara' which are used for juice, jam and other fresh or fermented products. The Lake Erie Regional Grape Program consists of Extension Educators and research faculty/staff from Cornell University and Penn State University devoted to projects aimed at increasing yields, product quality, diversity and improvement of cultivars, efficiency of production, profitability and adoption of environmentally sound cultural and pest management strategies.
The Lake Erie Regional Grape Program is supported, in part, by five
county Cornell Cooperative Extensions including:
Cattaraugus, Chautauqua, Erie and Niagara Counties in New York
and Erie County in Pennsylvania.

To visit one of these Cornell Cooperative Extension's web sites,
simply click on a county within the map.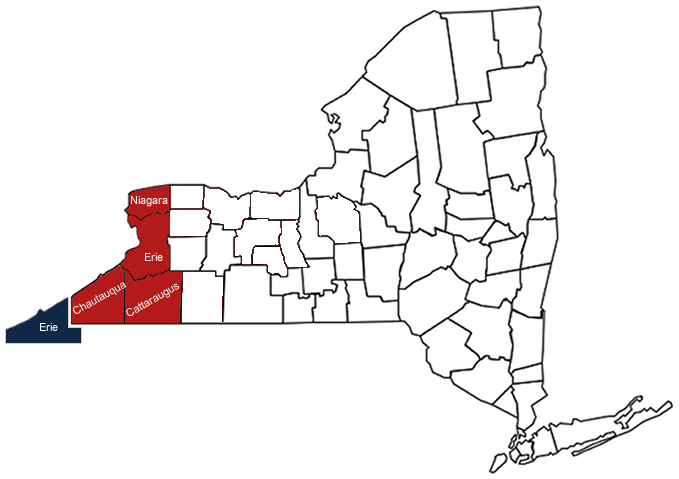 Upcoming Events
No upcoming events at this time.
Announcements
Commercial Vehicle Awareness slide presentation
NYS Trooper, Matt Luft, presented on Commercial Vehicle Awareness at CLEREL on Thursday, August 2nd. He has given us the permission to share his slides for you to reference at your convenience to share with others or to review. Please reference this link.
Straight Talk: Is H-2A Working Out in the Vineyard
Check out the story below. Our local grower Andy Knight is one of the 3 growers interviewed.
https://www.growingproduce.com/fruits/grapes/how-h-2a-is-working-out-in-the-vineyard/
Spotted Lanternfly Public Service Announcement
Please take a look at this PSA on YouTube. It is narrated by our very own Jennifer Phillips Russo.
If you see a Spotted Lanternfly:
1-Take a photo
2-Collect it
4-Report it
LERGP Podcasts- check them out!
LERGP POD CASTS

Lake Erie Regional Grape Program - Cornell Cooperative Extension
Your Trusted Source for Research-Based Knowledge