About Program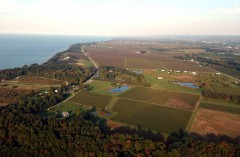 There are approximately 30,000 acres of vineyard in the Lake Erie region of New York and Pennsylvania grown on 840 farms, making this the largest grape growing region outside of California.

Of this acreage, 98.5% consists of Labrusca (American Grape) varieties such as 'Concord' and 'Niagara' which are used for juice, jam and other fresh or fermented products. The Lake Erie Regional Grape Program consists of Extension Educators and research faculty/staff from Cornell University and Penn State University devoted to projects aimed at increasing yields, product quality, diversity and improvement of cultivars, efficiency of production, profitability and adoption of environmentally sound cultural and pest management strategies.
The Lake Erie Regional Grape Program is supported, in part, by five
county Cornell Cooperative Extensions including:
Cattaraugus, Chautauqua, Erie and Niagara Counties in New York
and Erie County in Pennsylvania.

To visit one of these Cornell Cooperative Extension's web sites,
simply click on a county within the map.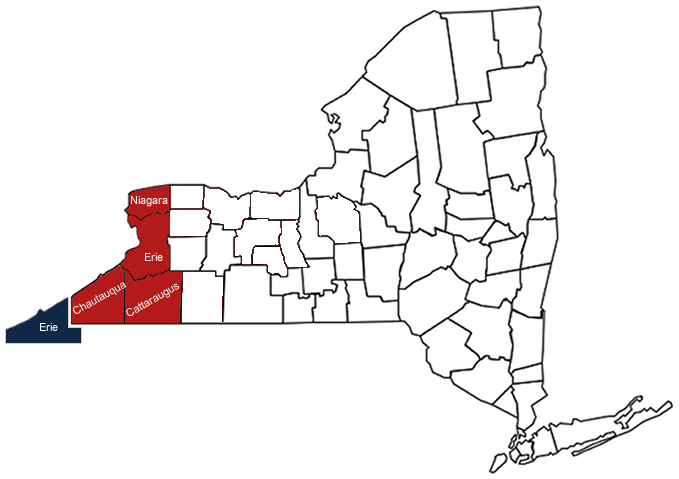 Upcoming Events
LERGP 25 YEARS Summer Conference

August 11, 2017
9:00am-4:00pm
Portland, NY
2017 Lake Erie Regional Grape Program Summer Growers' Conference
August 11, 2017
Cornell Lake Erie Research and Extension Laboratory
6592 West Main Road, Portland, NY 14769
Agenda
7:30 AM Tradeshow set up begins
8:30 AM Registration and Tradeshow open
9:00 AM Welcome Tim Weigle
9:10 to 9:45 AM Using the Grape Berry Moth Model on NEWA
Tim Weigle, NYS IPM Program and Andy Muza, LERGP, Penn State
9:45 to 10:15 AM Managing Resistance and Late Season Fungicide Applications
Bryan Hed, LERGP, Penn State
10:15 to 10:45 AM Insect Update
Jody Timer, LERGP, Penn State
10:45 to 11:45 AM Update on Changes in the Worker Protection Standard Regulations
Michael Nierenberg, NYS Department of Environmental Conservation
11:45 to Noon Excellence in IPM Award Presentation ??" Jennifer Grant
Noon to 1:30 PM Lunch and Visit Tradeshow
1:30 to 2:00 PM Precision Vineyard Imaging
Dr. Stephen Nuske, Carnegie Melon University
2:00 to 2:30PM Variable Rate Shoot Thinning The Hows and Whys
Jackie Dresser and Rhiann Jakubowski, Lake Erie Regional Grape Program
2:30 to 3:00 PM "Efficient Vineyard" SCRI Project Update
Terry Bates, LERGP, CLEREL Director
3:00 to 3:30 PM Economics of Using Cover Crops
Kevin Martin, LERGP, Penn State
3:30 to 4:00 PM Efficient Vineyard Project
James Taylor, New Castle University
4:00 PM Adjourn
Come celebrate 25 years with LERGP at the Summer Grower Conference.
More Details to follow!
2017 LERGP Celebrating 25 Years Open House
August 12, 2017
10:00am-03:00pm
Portland, NY
We would like to open our doors to the community and surrounding areas to share what we do here at the Lake Erie Regional Grape Program at the Cornell Lake Erie Research and Extension Laboratory. LERGP is celebrating its 25th anniversary this year and we hope you will be part of it. Stop in to see presentations of our current work and take a tour of the farm.
We will be having hayride tours of the farm and a free hot dog lunch!
Announcements
OPEN HOUSE at LERGP at CLEREL
Have you ever wondered what we do at the Lake Erie Research & Extension Laboratory? Then, come find out! We are having an Open House on August 12th from 10:00am to 1:00pm.
We will have hayride vineyard tours with educational stations, and a free hot dog and hamburger lunch for all.



Lake Erie Regional Grape Program - Cornell Cooperative Extension
Your Trusted Source for Research-Based Knowledge