Research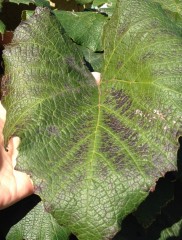 Welcome to Viticulture research in the Lake Erie Grape Production Region.
Along Lake Erie's Southeast shoreline, the land in New York and Pennsylvania quickly rises over 700 feet to the Allegheny Plateau. Sandwiched between the temperature moderating waters of Lake Erie and the 700 foot earthen wall sits a narrow band of land ideal for agricultural fruit production in the Northeastern, U.S. Although also home to the production of peaches, cherries, apples, blueberries, and other fruit crops, agriculture in the region is dominated by grape production with Concord as the main variety. Viticulture research at the Cornell Vineyard Laboratory focuses on improving grape production in this unique region.
Most Recent Research Winter Content
Freeze Damage
Last Modified: February 24, 2015


Lake Erie Grape belt low temperatures in Feb 2015 reached -19 to -29 degrees F and this has caused variable damage to fruiting buds of grapevines. Viticulture Specialist, Luke Haggerty, and the CLEREL staff are evaluating the extent of bud damage from several vineyards across the region.
Adapting Canopy Sensing Systems into Juice Grape Production
James Taylor, Post-Doctoral Fellow
Lake Erie Regional Grape Program
Last Modified: April 10, 2013


The LERGP team at CLEREL are researching and developing methods to incorporate information from high-resolution canopy sensors into Concord (and Niagara) production systems. Two sensing systems are being trialed; the N-Tech GreenSeeker and Holland Scientific CropCircle. These canopy sensors operate by measuring the reflectance of visible (Blue, Green and/or Red) and Near Infra-Red (NIR) light from the leaves. The amount of reflectance is dependent on i) the number of leaves and ii) the health (color and cell structure) of these leaves.
Upcoming Events
2017 LERGP Annual Winter Grower Conference

March 15, 2017
8:00am-4:00pm
Fredonia, NY
Come join us for a day of education and celebration of LERGP's 25 years of service.
Core Pesticide Training and Pesticide Applicator's License Exam

April 26, 2017
9:00am-4:00pm
Portland, NY
CORE TRAINING
WHEN: 9 AM to 12:15 PM
WHERE: CLEREL Meeting room
COST: $15
3.0 Pesticide recertification credits in the CORE category have been applied for. The CORE training session is also designed as a review prior to taking the Commercial or Private Pesticide Applicator exam but is not required prior to taking the exam. Preregistration for the training using the enclosed course registration form is required by April 17, 2017.
LERGP 25 YEARS Summer Conference

August 11, 2017
9:00am-4:00pm
Portland, NY
Come celebrate 25 years with LERGP at the Summer Grower Conference.
More Details to follow!

Lake Erie Regional Grape Program - Cornell Cooperative Extension
Your Trusted Source for Research-Based Knowledge