Research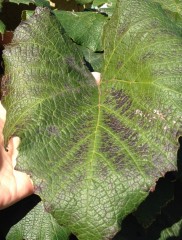 Welcome to Viticulture research in the Lake Erie Grape Production Region.
Along Lake Erie's Southeast shoreline, the land in New York and Pennsylvania quickly rises over 700 feet to the Allegheny Plateau. Sandwiched between the temperature moderating waters of Lake Erie and the 700 foot earthen wall sits a narrow band of land ideal for agricultural fruit production in the Northeastern, U.S. Although also home to the production of peaches, cherries, apples, blueberries, and other fruit crops, agriculture in the region is dominated by grape production with Concord as the main variety. Viticulture research at the Cornell Vineyard Laboratory focuses on improving grape production in this unique region.
Most Recent Research Winter Content
LERGP Viticulture Extension Specialist
Last Modified: October 23, 2018
Areas of Work Interest:
Grower Education through traditional and innovative means
Cover Crops
Vineyard Mechanization
Bud Hardiness
Vine Health
Local Grower Assists in the Development of Technology for the Lake Erie Concord
Last Modified: July 27, 2017

One of the goals of the Lake Erie Regional Grape Program is to ensure that the research they conduct is useful to grape growers. One way to ensure this happens is to incorporate grower participation into any research project from the very beginning.
Coffee, Donuts and Variable Rate Shoot Thinning - All Part of Efficient Vineyard
Tim Weigle, Team Leader, Statewide Grape IPM Specialist
Lake Erie Regional Grape Program
Last Modified: July 19, 2017


Dr. Terry Bates of the Lake Erie Regional Grape Program (LERGP) at the Cornell Lake Erie Research and Extension Laboratory (CLEREL) was host to an "on-the-fly" variable rate demonstration at the Wednesday, May 10, 2017 LERGP Coffee Pot Meeting.
Upcoming Events
CORE TRAINING

April 11, 2019
9:00am-12:00pm
Portland, NY
CORE TRAINING
WHEN: Thursday April 11 from 9 AM to 12:15 PM
WHERE: CLEREL Meeting room
COST: $15
3.0 Pesticide recertification credits in the CORE category have been applied for.
DEC Pesticide Applicator Test
April 11, 2019
1:00pm
Portland, NY
PRIVATE AND COMMERCIAL NYS PESTICIDE EXAMINATIONS
WHEN: 1 PM
WHERE: CLEREL Meeting room
COST: $100 REGISTRATION: NYS Department of Environmental Conservation (DEC) requires you to register for entrance to the exam session with the Buffalo DEC office at (716) 851-7220.
Announcements
Vineyard Improvement Program Applications
Vineyard Improvement Program: An Application Guide
LERGP.com also has more information about the program. Frequently asked questions, eligibility requirements, sample budgets and business plans are all available.
LERGP Podcasts- check them out!
http://lergp.com/podcasts/

Lake Erie Regional Grape Program - Cornell Cooperative Extension
Your Trusted Source for Research-Based Knowledge