Cultural Practices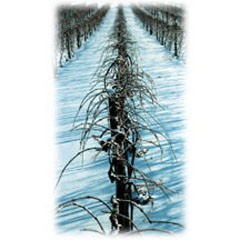 Vineyard Nutrition
Just as in humans, nutritional balance within the vine is essential to consistent fruit quality and quantity. How do you balance nutrition in the vineyard? While the majority of nutritional management can be dealt with prior to planting, such as adjusting soil pH and organic matter, vineyard soil management is a continual process and requires monitoring to ensure healthy, productive vines. It's better to maintain proper soil health practices than to try to correct problems when leaf symptoms are visible. How can you keep an eye on vineyard nutrition? Soil and petiole testing will help you monitor nutrients available in the soil and in the plants. We recommend doing
BOTH
soil and petiole testing to verify that what you have available in the soil is actually getting into the vines. If a petiole test result indicates a deficiency, but soil test results indicate adequate levels of a nutrient, an alternative problem, such as improper soil pH or inadequate water drainage, could be the culprit.
CULTURAL PRACTICES CATEGORIES
Most Recent Cultural Practices Summer Content
Nitrogen Worksheet
Kevin Martin, Extension Educator, Business Management
Lake Erie Regional Grape Program
Last Modified: June 4, 2015
Freeze Damage
Last Modified: February 24, 2015


Lake Erie Grape belt low temperatures in Feb 2015 reached -19 to -29 degrees F and this has caused variable damage to fruiting buds of grapevines. Viticulture Specialist, Luke Haggerty, and the CLEREL staff are evaluating the extent of bud damage from several vineyards across the region.
Beta Testing of eNEWA for Grapes
Tim Weigle, Team Leader, Statewide Grape IPM Specialist
Lake Erie Regional Grape Program
Last Modified: February 10, 2014


Would you like to see the current weather and grape pest information found on NEWA without having to click through the website? Then eNEWA is for you. eNEWA is a daily email that contains current weather and pest model information from a station, or stations, near you. The email will contain; 1) high, low and average temperature, rainfall, wind speed and relative humidity 2) the 5-day forecast for these weather parameters, 3) GDD totals (Base 50F), 4) 5-day GDD (Base 50F) forecast and 5) model results for powdery mildew, black rot, Phomopsis and grape berry moth. The weather information is provided for not only the current day but for the past two days as well.

Lake Erie Regional Grape Program - Cornell Cooperative Extension
Your Trusted Source for Research-Based Knowledge