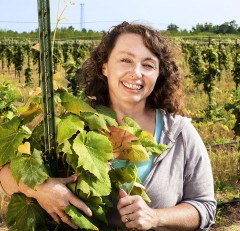 Kim Knappenberger
Program Aid II
CLEREL
6592 West Main Rd
Portland
phone 716-792-2800
email Kim
Kim Knappenberger is the Program Aide II with the New York State IPM Program working with the Adoption and Outreach portion of the SCRI Efficient Vineyards project. In this role she works with the research and extension team members to ensure project outcomes are documented and reported. She has been employed with the Lake Erie Regional Grape Program since 2013 and has been involved in a number of projects during that time including GIS mapping, data collection and collation for the Cooperative Agricultural Pest Survey (CAPS) Program, data and sample collection in the vineyards and hopyards, and various planting programs.
Upcoming Events
Core Pesticide Training and Pesticide Applicator's License Exam

April 26, 2017
9:00am-4:00pm
Portland, NY
CORE TRAINING
WHEN: 9 AM to 12:15 PM
WHERE: CLEREL Meeting room
COST: $15
3.0 Pesticide recertification credits in the CORE category have been applied for. The CORE training session is also designed as a review prior to taking the Commercial or Private Pesticide Applicator exam but is not required prior to taking the exam. Preregistration for the training using the enclosed course registration form is required by April 17, 2017.
LERGP 25 YEARS Summer Conference

August 11, 2017
9:00am-4:00pm
Portland, NY
Come celebrate 25 years with LERGP at the Summer Grower Conference.
More Details to follow!
2017 LERGP Celebrating 25 Years Open House
August 12, 2017
10:00am-03:00pm
Portland, NY
We would like to open our doors to the community and surrounding areas to share what we do here at the Lake Erie Regional Grape Program at the Cornell Lake Erie Research and Extension Laboratory. LERGP is celebrating its 25th anniversary this year and we hope you will be part of it. Stop in to see presentations of our current work and take a tour of the farm.
Announcements
Check out our new Podcasts!
It is hard to be within sight of Lake Erie without seeing at least one of the 30,000 acres of grapes that make up the Lake Erie grape belt in Chautauqua, Cattaraugus, Erie and Niagara Counties in New York and Erie County in Pennsylvania. Have you ever wondered what is going on in those vineyards? One of the aims of the Lake Erie Regional Grape Program (LERGP) extension team is to provide the most up to date, research-based information to assist the grape growers in the Lake Erie region. Current LERGP programming is aimed at helping growers to be environmentally and economically sustainable in their grape production practices. Members of the Lake Erie Regional Grape Program research and extension team have added weekly podcasts to their information transfer tools. It is often difficult for growers to get out of the vineyard and to a meeting, so now they can access it from the comfort of their own homes. These podcasts can be of interest to those who are not mainstream growers as well. Whether you are currently looking to start a vineyard, have vines in your backyard or are just interested in the Lake Erie grape industry, if this week's podcast doesn't interest you, next week's could. Tim Weigle, Senior Extension Associate with the NYS IPM Program, enlisted the help of the LERGP team and the team's media specialist, Damian Dodd, to create weekly podcasts aimed at giving timely information to regional grape growers to aid them in their vineyard management. These podcasts, also called vlogs (video blogs), are brief, approximately 3-7 minutes in length, but packed full of useful information. The podcasts will range from general information on subjects like "What is LERGP?" to more specific topics like how to determine when to purchase fertilizer for the upcoming season. There are 6 podcasts posted to date, these include:
Podcast #1 "What is LERGP?" with Dr. Terry Bates and Luke Haggerty
Podcast #2 "Fertilizer Prices" with Dr. Terry Bates and Kevin Martin
Podcast #3 "Dr. Cain Hickey Reflects" with Drs. Terry Bates and Cain Hickey
Podcast #4 "Dr. Terry Bates Reflects SCRI Year 1" with Drs. Terry Bates and Cain Hickey
Podcast #5 "A full Description of LERGP" with Tim Weigle and Luke Haggerty
Podcast #6 "What is NEWA?" with Tim Weigle and Luke Haggerty

To access these useful videos, you can visit the new Lake Erie Regional Grape Program website at http://lergp.com and click on the Podcast link on the right of the screen. If you would like to be alerted when a new podcast is posted, you can subscribe to the channel by clicking "Subscribe" and an email will be sent when updates are made. Suggestions for future podcasts are welcome and can be made by commenting in the comments box on the YouTube channel or by leaving a comment on the LERGP website "Contact Us" page. If you would like more information on some of the programs being conducted by LERGP, please visit the Efficient Vineyard website https://www.efficientvineyard.com/ to see what is happening with their USDA/NIFA Specialty Crop Research Initiative (SCRI) project.





Lake Erie Regional Grape Program - Cornell Cooperative Extension
Your Trusted Source for Research-Based Knowledge