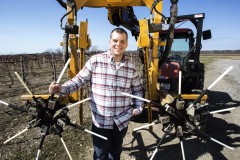 Daniel Sprague Jr.
Field Coordinator
CLEREL
6592 West Main Rd
Portland, NY 14769
phone 716-792-2800
email Daniel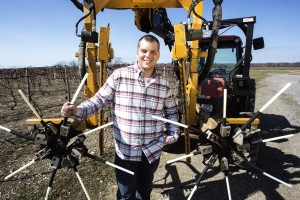 Dan will be responsible for creating and maintaining a research project management system for all current projects; to take a lead role in directing and performing general vineyard, farm and laboratory activities to complete team research objectives; to oversee building maintenance; and to assist with pesticide reporting all while maintaining a safe workplace for staff and visitors as well as protecting the natural environment.<br>Dan is a fourth generation grape grower, and as such, comes to this position with a vast amount of experience. He comes from Perrysburg, NY where he grew up working on a dairy and grape farm. He currently resides in Perrysburg with his wife and family and is the sole proprietor of Dan Sprague Jr. Farms, which consists of 45 acres of Welch contracted Concord grapes. &nbsp;<br>
Upcoming Events
2024 LERGP Spray Program

December 5, 2023
Announcements
Commercial Vehicle Awareness slide presentation
NYS Trooper, Matt Luft, presented on Commercial Vehicle Awareness at CLEREL on Thursday, August 2nd. He has given us the permission to share his slides for you to reference at your convenience to share with others or to review. Please reference this link.
Straight Talk: Is H-2A Working Out in the Vineyard
Check out the story below. Our local grower Andy Knight is one of the 3 growers interviewed.
https://www.growingproduce.com/fruits/grapes/how-h-2a-is-working-out-in-the-vineyard/
Spotted Lanternfly Public Service Announcement
Please take a look at this PSA on YouTube. It is narrated by our very own Jennifer Phillips Russo.
If you see a Spotted Lanternfly:
1-Take a photo
2-Collect it
4-Report it
LERGP Podcasts- check them out!
LERGP POD CASTS

Lake Erie Regional Grape Program - Cornell Cooperative Extension
Your Trusted Source for Research-Based Knowledge