Cultural Practices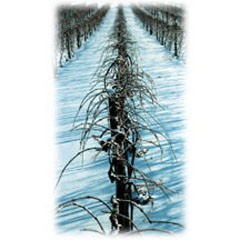 Vineyard Nutrition
Just as in humans, nutritional balance within the vine is essential to consistent fruit quality and quantity. How do you balance nutrition in the vineyard? While the majority of nutritional management can be dealt with prior to planting, such as adjusting soil pH and organic matter, vineyard soil management is a continual process and requires monitoring to ensure healthy, productive vines. It's better to maintain proper soil health practices than to try to correct problems when leaf symptoms are visible. How can you keep an eye on vineyard nutrition? Soil and petiole testing will help you monitor nutrients available in the soil and in the plants. We recommend doing
BOTH
soil and petiole testing to verify that what you have available in the soil is actually getting into the vines. If a petiole test result indicates a deficiency, but soil test results indicate adequate levels of a nutrient, an alternative problem, such as improper soil pH or inadequate water drainage, could be the culprit.
CULTURAL PRACTICES CATEGORIES
Most Recent Cultural Practices Fall Content
Nitrogen Worksheet
Kevin Martin, Extension Educator, Business Management
Lake Erie Regional Grape Program
Last Modified: June 4, 2015
Freeze Damage
Last Modified: February 24, 2015


Lake Erie Grape belt low temperatures in Feb 2015 reached -19 to -29 degrees F and this has caused variable damage to fruiting buds of grapevines. Viticulture Specialist, Luke Haggerty, and the CLEREL staff are evaluating the extent of bud damage from several vineyards across the region.
Beta Testing of eNEWA for Grapes
Tim Weigle, Team Leader, Statewide Grape IPM Specialist
Lake Erie Regional Grape Program
Last Modified: February 10, 2014


Would you like to see the current weather and grape pest information found on NEWA without having to click through the website? Then eNEWA is for you. eNEWA is a daily email that contains current weather and pest model information from a station, or stations, near you. The email will contain; 1) high, low and average temperature, rainfall, wind speed and relative humidity 2) the 5-day forecast for these weather parameters, 3) GDD totals (Base 50F), 4) 5-day GDD (Base 50F) forecast and 5) model results for powdery mildew, black rot, Phomopsis and grape berry moth. The weather information is provided for not only the current day but for the past two days as well.
Upcoming Events
MyEV Tool- Take Your Vineyard Management to the Next Level
November 2, 2021
November 9, 2021
: MyEv Tool Series
Portland, NY
LEVEL Up with MyEV
Announcements
My Efficient Vineyard Tool
Take Your Vineyard Management to the Next Level with Precision Viticulture
Lake Erie vineyards have a lot of natural variation in soil type, vine growth, and crop yield, which impacts overall productivity and farm profitability. Precision Viticulture is the process of measuring, modeling, and managing vineyard variation on a sub-block level to improve production efficiency.
Getting started with precision viticulture can seem overwhelming with the need to purchase and learn new technology, such as vineyard sensors, GIS software, and variable-rate controllers. To address this challenge, Terry Bates (CLEREL) and Nick Gunner (Orbitist) developed an easy-to-use and web-based software platform for growers to benefit from spatial information on their own farms. The MyEfficientVineyard (MyEV) tool allows growers to collect, process, and map spatial observations in any of their vineyard blocks. There is an old saying that "the best fertilizer is the grower's footprints in the vineyard." MyEV now allows you to trace those footprints and spatially map what you observed so you can make the best management decisions for your vineyard blocks.
Sign up and learn the basics of MyEV!
- Tuesday, November 2, 2021 from 1:00-3:00 pm - Terry Bates and Nick Gunner will teach you the basics of the MyEV software. Growers will learn how to map the vineyard blocks on their farm, set up a spatial data collector tool, collect observations in the field, and map spatial observations. After the session, growers will have a week to test out MyEV on their own farms and ask questions of the research team over email.
- Tuesday, November 9, 2021, from 1:00-3:00 pm - We will have a "hands on" session at CLEREL to answer grower questions and walk through the mapping and data collection functions in the MyEV smartphone application.
Variable rate fruit thinning video on MyEV
https://www.efficientvineyard.com/blog/variable-rate-fruit-thinning-for-concord-crop-load-balance
Assess Your Freeze Damage
Assess Your Freeze Damage with a MyEV data Collector- By Terry Bates
Freeze damage acro
ss eastern U.S. vineyards was highly variable this week depending on the stage of bud development, air temperatures, and vineyard location. Assessing bud damage over the next two weeks will help growers determine the size and variation in crop potential, adjust management practices, and record damage for crop insurance. In this video, Terry Bates shows you how to set up and use a MyEV data collector and a smartphone to collect and map freeze damage observations in your vineyard.
Recorded Coffee Pot Meetings
You may not be able to obtain Pesticide License Recertification points but you can gain plenty of valuable information by watching the
coffee pot meetings if you missed them! We have had some special guest speakers sharing valuable information with us!
Click the link below for access to all of the recorded LERGP Coffee Pot Meetings!
Recorded LERGP Coffee Pot Meetings
Hand sanitizer and Masks Still Available
Hand Sanitizer and Face Masks Still Available
It's not too late! If you haven't picked up your free NYS Clean hand sanitizer and washable Hanes masks, you still can. All farms in New York are eligible to request supplies. Click on this
link
to make the request. We will set up a time for you to come pick up the supplies at CLEREL in Portland.
LERGP Podcasts- check them out!
LERGP POD CASTS
Loaner Sensor Program
The loaner sensor program will not be available this growing season in light of the COVID -19 protocols. We offer our sincere apologies

Lake Erie Regional Grape Program - Cornell Cooperative Extension
Your Trusted Source for Research-Based Knowledge