IPM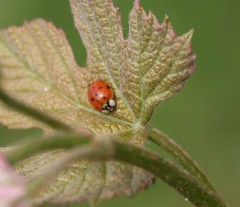 Grape growers benefit from implementing IPM - environmentally and economically sensible ways to protect crops from insects, plant diseases, weeds, and vertebrate pests. We work with grape processors, growers, local extension educators, faculty, crop consultants, and agricultural businesses to find IPM answers, develop new IPM methods, and deliver IPM information.
NYS IPM Program Mission: The New York State Integrated Pest Management Program develops sustainable ways to manage pests and helps people to use methods that minimize environmental, health and economic risks.

Most Recent IPM Fall Content
Beta Testing of eNEWA for Grapes
Tim Weigle, Team Leader, Statewide Grape IPM Specialist
Lake Erie Regional Grape Program
Last Modified: February 10, 2014


Would you like to see the current weather and grape pest information found on NEWA without having to click through the website? Then eNEWA is for you. eNEWA is a daily email that contains current weather and pest model information from a station, or stations, near you. The email will contain; 1) high, low and average temperature, rainfall, wind speed and relative humidity 2) the 5-day forecast for these weather parameters, 3) GDD totals (Base 50F), 4) 5-day GDD (Base 50F) forecast and 5) model results for powdery mildew, black rot, Phomopsis and grape berry moth. The weather information is provided for not only the current day but for the past two days as well.
Seasonal Primer for Grape Production
Edith Byrne, Association Program Educator I
Lake Erie Regional Grape Program
Last Modified: March 14, 2013


Seasonal Primer for Grape Production
Using NEWA Resources in a Vineyard IPM Strategy
Tim Weigle, Team Leader, Statewide Grape IPM Specialist
Lake Erie Regional Grape Program
Last Modified: March 7, 2013


Historically, control practices for vineyard pests in the eastern United States were made based on the calendar or on a growth stage such as bud break, bloom or verasion using materials with a broad spectrum of activity. This was a fairly straightforward approach to pest management, and for many years this type of spray program was very effective. However, as the nation became more conscious of pesticide use, the Food Quality Protection Act (FQPA) was introduced, and broad spectrum pesticides were either restricted in their usage, grapes were removed from the label, or were banned completely. In the recent past, we have seen more choices in fungicides and insecticides come on the market, but the trend is now toward less toxic and narrower spectrum pesticides.
Upcoming Events
2015 Winter Grape Grower Conference

March 16, 2015
8:00am-4:00pm
Fredonia, NY
Please join us for our annual Winter Grape Grower Conference. This is a great day to meet up with fellow growers to participate in numerous talks, panel discussions and great food! The tentative topics are as follows: GBM Management, Cover Crops, Crop Estimation, Grape Root Worm, Thinning and the Economics associated with Thinning. Actual content is being reviewed and discussed now and a more detailed list of topics will be available in the new year.
Announcements
Lake Erie Grapes in the News
The recent below zero temperatures we have across the Lake Erie grape belt has brought a renewed interest to grape production in the area, especially the impact on the cold sensitive wine varieties. Use the station links below to see the LERGP's Luke Haggerty discussing the cold temperatures effects on bud mortality across the region with reporters from
Channel 4
and
Channel 7
in Buffalo, NY.

Lake Erie Regional Grape Program - Cornell Cooperative Extension
Your Trusted Source for Research-Based Knowledge