IPM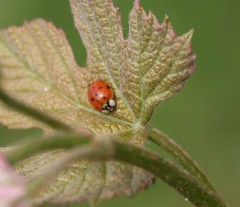 Grape growers benefit from implementing IPM - environmentally and economically sensible ways to protect crops from insects, plant diseases, weeds, and vertebrate pests. We work with grape processors, growers, local extension educators, faculty, crop consultants, and agricultural businesses to find IPM answers, develop new IPM methods, and deliver IPM information.
NYS IPM Program Mission: The New York State Integrated Pest Management Program develops sustainable ways to manage pests and helps people to use methods that minimize environmental, health and economic risks.

Most Recent IPM Summer Content
FIFRA 2(ee) Recommendations Available for Grape Rootworm Insecticides in NY
Tim Weigle, Team Leader, Statewide Grape IPM Specialist
Lake Erie Regional Grape Program
Last Modified: January 29, 2015

In conjunction with Greg Loeb, Professor, Department of Entomology, NYSAES, two replicated spray trials using 4 insecticides currently registered for use on grapes in New York State (Admire Pro, Danitol 2.4 EC, Leverage 360 and Sniper) were conducted by NYS IPM Program and LERGP staff in grower vineyards in the Lake Erie region.

Beta Testing of eNEWA for Grapes
Tim Weigle, Team Leader, Statewide Grape IPM Specialist
Lake Erie Regional Grape Program
Last Modified: February 10, 2014


Would you like to see the current weather and grape pest information found on NEWA without having to click through the website? Then eNEWA is for you. eNEWA is a daily email that contains current weather and pest model information from a station, or stations, near you. The email will contain; 1) high, low and average temperature, rainfall, wind speed and relative humidity 2) the 5-day forecast for these weather parameters, 3) GDD totals (Base 50F), 4) 5-day GDD (Base 50F) forecast and 5) model results for powdery mildew, black rot, Phomopsis and grape berry moth. The weather information is provided for not only the current day but for the past two days as well.
Insecticides for use in New York and Pennsylvania Vineyards (Table)
Edith Byrne, Association Program Educator I
Lake Erie Regional Grape Program
Last Modified: August 7, 2013


Coming up with the best timing of the various types of insecticides has always been a good topic of discussion. Andy Muza and Tim Weigle have put together a Table: Insecticides for use in New York and Pennsylvania Vineyards (based on one developed by Rufus Isaacs at Michigan State University).
Announcements
Dr. Wilcox receives Outstanding Achievement Award
Disease management is a critical component of viticulture east of the Rockies, and over his career Dr. Wilcox has delivered science-based guidelines that have allowed growers across the region to manage diseases more efficiently and sustainably. His in-depth knowledge of the biology of fungal pathogens has been key to improving the timing of management interventions over the course of the growing season.
A northern California native, Dr. Wilcox received his B.S. in Horticulture and M.S. and Ph.D. degrees in Plant Pathology, all from the University of California at Davis. Since 1984, he has been a professor at Cornell's New York State Agricultural Experiment Station in Geneva (Finger Lakes region), where he has led the grape pathology program for the past 21 years.
His programmatic focus is on the applied biology and practical, integrated management of the major fungal diseases of grapes, utilizing both viticultural and fungicidal tools. He has published nearly 100 research articles in scientific journals, in addition to numerous technical reports and popular articles in grower newsletters and trade magazines, and is the senior editor of the forthcoming 2nd Edition of the Compendium of Grape Diseases, Disorders, and Pests, an international publication of the American Phytopathological Society. He is also a co-author of the New York/Pennsylvania Pest Management Guidelines for Grapes, and his yearly "Grape Disease Control" newsletter provides grape growers throughout eastern North America with current, practical guidance for the growing season. He also organized and co-teaches a course in Grape Pest Management, in support of Cornell's undergraduate major in viticulture and enology. His extension activities have focused on educational programs for grape growers, vineyard managers, winery owners, and private and public sector agricultural advisers on the identification, biology, and management of infectious diseases. Dr. Wilcox's research program is integrated with his extension program, providing data for educational programs and opportunities to demonstrate specific concepts in the field.
His work is valued by the grape industry and colleagues alike for its impact, as demonstrated by his ASEV Best Viticulture Paper Award in 2012 for research that correlated powdery mildew severity with canopy density. In 2015, he received the award again for seminal work on the persistence of sulfur spray residues during ripening and wine making. In 2013, he received the Australian Journal of Grape and Wine Research Best Viticulture Paper Award for the optimization of a new technique to detect pathogens on grape berries before disease symptoms are visible.
Dr. Wilcox will receive his award at the 40th Annual ASEV-ES Conference in Dunkirk, NY July 23-25, 2015, where he will give a presentation on "Mold & Mildews, Spots & Rots: Grape Pathology in the East". For more information about the conference, visit http://www.asev-es.org/.
2015 NY & PA Guidelines for Grapes Available
The NY & PA Pest Management Guidelines for Grapes are now available. To get your copy visit the
Cornell Store
2015 Cornell Integrated Hops Production Guide
The 2015 Cornell Integrated Hops Production Guide is now available. To get your copy, visit the
Cornell Store
Lake Erie Grapes in the News
The recent below zero temperatures we have across the Lake Erie grape belt has brought a renewed interest to grape production in the area, especially the impact on the cold sensitive wine varieties. Use the station links below to see the LERGP's Luke Haggerty discussing the cold temperatures effects on bud mortality across the region with reporters from
Channel 4
and
Channel 7
in Buffalo, NY.

Lake Erie Regional Grape Program - Cornell Cooperative Extension
Your Trusted Source for Research-Based Knowledge