IPM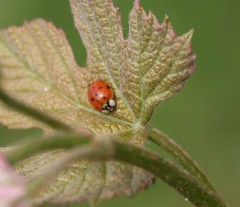 Grape growers benefit from implementing IPM - environmentally and economically sensible ways to protect crops from insects, plant diseases, weeds, and vertebrate pests. We work with grape processors, growers, local extension educators, faculty, crop consultants, and agricultural businesses to find IPM answers, develop new IPM methods, and deliver IPM information.
NYS IPM Program Mission: The New York State Integrated Pest Management Program develops sustainable ways to manage pests and helps people to use methods that minimize environmental, health and economic risks.

Most Recent IPM Winter Content
2014 CAPS Project Final Report
Tim Weigle, Team Leader, Statewide Grape IPM Specialist
Lake Erie Regional Grape Program
Last Modified: December 8, 2014


The final report for the 2014 Commodity Agricultural Pest Survey in Grapes is available
Beta Testing of eNEWA for Grapes
Tim Weigle, Team Leader, Statewide Grape IPM Specialist
Lake Erie Regional Grape Program
Last Modified: February 10, 2014


Would you like to see the current weather and grape pest information found on NEWA without having to click through the website? Then eNEWA is for you. eNEWA is a daily email that contains current weather and pest model information from a station, or stations, near you. The email will contain; 1) high, low and average temperature, rainfall, wind speed and relative humidity 2) the 5-day forecast for these weather parameters, 3) GDD totals (Base 50F), 4) 5-day GDD (Base 50F) forecast and 5) model results for powdery mildew, black rot, Phomopsis and grape berry moth. The weather information is provided for not only the current day but for the past two days as well.
2012 Frost Damage
Kevin Martin, Extension Educator, Business Management
Lake Erie Regional Grape Program
Last Modified: March 20, 2013

A perfect storm of conditions hit the Lake Erie Region to maximize the economic impact of the weather related events this spring. Historically high bulk juice prices, high crop potential and ten frost or freeze events resulted in a substantial decline in the expected value of the crop. Crop insurance, potential disaster payments and modified production practices will lessen the negative impact somewhat.
Upcoming Events
2015 Reporting Session for Current Projects and Future Proposals
February 27, 2015
9:00am-12:00pm
Portland, NY
A project reporting session is scheduled for Friday, February 27, 2015 at the Cornell Lake Erie Research and Extension Laboratory located at 6592 West Main Rd. Portland, NY. This location will serve as the primary location, but some of the presenters will be presenting from Geneva via polycom. The meeting will begin at 9:00am and run until approximately Noon. Updates on projects funded by the Lake Erie Regional Grape Program Research and Extension Program, Inc. (the group charged with dispersing the 75 cents per ton voluntary assessment for Concords produced in the Lake Erie Region), New York Wine and Grape Foundation, and New York Wine Grape Growers Association, will be presented, as well as, short presentations on proposed new projects. The meeting format is designed to encourage discussion between those who are conducting or proposing projects, the funders, and the grower community by limiting presentations to 5 minutes and eliminating the use of visual aids. This reporting session is open to the public. Please RSVP by Monday, February 23,2015.
2015 Winter Grape Grower Conference

March 16, 2015
8:00am-4:00pm
Fredonia, NY
Please join us for our annual Winter Grape Grower Conference. This is a great day to meet up with fellow growers to participate in talks & panel discussions and to enjoy great food and company! View full agenda by selecting details tab.
Wine Workshop
April 9, 2015
8:00am-4:00pm
Portland, NY
Save the date- more information to follow!
Announcements
2014 CAPS project report available
The NY Commodity Ag Pest Survey for grapes is now available in the IPM section of our website
Lake Erie Grapes in the News
The recent below zero temperatures we have across the Lake Erie grape belt has brought a renewed interest to grape production in the area, especially the impact on the cold sensitive wine varieties. Use the station links below to see the LERGP's Luke Haggerty discussing the cold temperatures effects on bud mortality across the region with reporters from
Channel 4
and
Channel 7
in Buffalo, NY.

Lake Erie Regional Grape Program - Cornell Cooperative Extension
Your Trusted Source for Research-Based Knowledge