IPM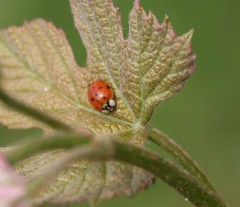 Grape growers benefit from implementing IPM - environmentally and economically sensible ways to protect crops from insects, plant diseases, weeds, and vertebrate pests. We work with grape processors, growers, local extension educators, faculty, crop consultants, and agricultural businesses to find IPM answers, develop new IPM methods, and deliver IPM information.
NYS IPM Program Mission: The New York State Integrated Pest Management Program develops sustainable ways to manage pests and helps people to use methods that minimize environmental, health and economic risks.

Most Recent IPM Spring Content
FIFRA 2(ee) Recommendations Available for Grape Rootworm Insecticides in NY
Tim Weigle, Team Leader, Statewide Grape IPM Specialist
Lake Erie Regional Grape Program
Last Modified: January 29, 2015

In conjunction with Greg Loeb, Professor, Department of Entomology, NYSAES, two replicated spray trials using 4 insecticides currently registered for use on grapes in New York State (Admire Pro, Danitol 2.4 EC, Leverage 360 and Sniper) were conducted by NYS IPM Program and LERGP staff in grower vineyards in the Lake Erie region.

2014 hops season has begun in the Lake Erie region
Tim Weigle, Team Leader, Statewide Grape IPM Specialist
Lake Erie Regional Grape Program
Last Modified: April 22, 2014


The 2014 hops season has started in the Lake Erie region. Most varieties at the Cornell Lake Erie Research and Extension Laboratory (CLEREL) started to show growth on April 14 due to the warm weather over the weekend. By April 22, a majority of the crowns had pushed growth from 1 to 3 inches. This growth will be cut back in the near future to encourage more uniform growth across the hop yard and removes weaker early growth and encourages regrowth of bines with more crop potential.  
Beta Testing of eNEWA for Grapes
Tim Weigle, Team Leader, Statewide Grape IPM Specialist
Lake Erie Regional Grape Program
Last Modified: February 10, 2014


Would you like to see the current weather and grape pest information found on NEWA without having to click through the website? Then eNEWA is for you. eNEWA is a daily email that contains current weather and pest model information from a station, or stations, near you. The email will contain; 1) high, low and average temperature, rainfall, wind speed and relative humidity 2) the 5-day forecast for these weather parameters, 3) GDD totals (Base 50F), 4) 5-day GDD (Base 50F) forecast and 5) model results for powdery mildew, black rot, Phomopsis and grape berry moth. The weather information is provided for not only the current day but for the past two days as well.
Upcoming Events
CORE Training & Pesticide Applicator's License Exam

April 2, 2015
9:00am-12:00pm, 1:00-3:00pm
Portland, NY
The morning session will consist of a "CORE" training class that will run from 9:00am-Noon. This session is designed to be a review for the exam that follows in the afternoon. This session is not required to take the exam, but does qualify particpants for 3.0 DEC credits.
The exam held in the afternoon is conducted by the NYSDEC. You MUST register through them. All information pertaining to this exam is included on the PDF form titled Instructions for applying for the exam.Instructions for ordering manuals from The Cornell Store are also included. These forms are found by clicking "view details".
Pre-registration is required for both events.
Worker Protection Standard Training

April 6, 2015
10:00am-11:30am
Jamestown, NY
Tim Weigle, NYS IPM Program will lead participants in an overview of the Worker Protection Standard by showing the Michigan State University video, Pesticide Handlers and the Worker Protection Standard. The video itself is 50 minutes, and will be accompanied by a question and answer session.
Wine Workshop
April 9, 2015
8:00am-4:00pm
Portland, NY
Join Denise Gardner, Enology Extension Associate, Penn State University, Chris Gerling, Enology Extension Associate, Cornell University, Anna Katharine Mansfield, Associate Professor of Enology, Cornell University for a full day of talks to identify, measure and mitigate potential risk areas and develop standard operating procedures in the winery.
Announcements
2014 CAPS project report available
The NY Commodity Ag Pest Survey for grapes is now available in the IPM section of our website
Lake Erie Grapes in the News
The recent below zero temperatures we have across the Lake Erie grape belt has brought a renewed interest to grape production in the area, especially the impact on the cold sensitive wine varieties. Use the station links below to see the LERGP's Luke Haggerty discussing the cold temperatures effects on bud mortality across the region with reporters from
Channel 4
and
Channel 7
in Buffalo, NY.

Lake Erie Regional Grape Program - Cornell Cooperative Extension
Your Trusted Source for Research-Based Knowledge