IPM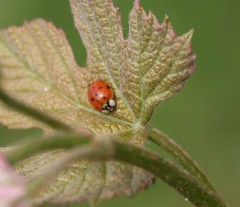 Grape growers benefit from implementing IPM - environmentally and economically sensible ways to protect crops from insects, plant diseases, weeds, and vertebrate pests. We work with grape processors, growers, local extension educators, faculty, crop consultants, and agricultural businesses to find IPM answers, develop new IPM methods, and deliver IPM information.
NYS IPM Program Mission: The New York State Integrated Pest Management Program develops sustainable ways to manage pests and helps people to use methods that minimize environmental, health and economic risks.

Most Recent IPM Summer Content
Beta Testing of eNEWA for Grapes
Tim Weigle, Team Leader, Statewide Grape IPM Specialist
Lake Erie Regional Grape Program
Last Modified: February 10, 2014


Would you like to see the current weather and grape pest information found on NEWA without having to click through the website? Then eNEWA is for you. eNEWA is a daily email that contains current weather and pest model information from a station, or stations, near you. The email will contain; 1) high, low and average temperature, rainfall, wind speed and relative humidity 2) the 5-day forecast for these weather parameters, 3) GDD totals (Base 50F), 4) 5-day GDD (Base 50F) forecast and 5) model results for powdery mildew, black rot, Phomopsis and grape berry moth. The weather information is provided for not only the current day but for the past two days as well.
Insecticides for use in New York and Pennsylvania Vineyards (Table)
Edith Byrne, Association Program Educator I
Lake Erie Regional Grape Program
Last Modified: August 7, 2013


Coming up with the best timing of the various types of insecticides has always been a good topic of discussion. Andy Muza and Tim Weigle have put together a Table: Insecticides for use in New York and Pennsylvania Vineyards (based on one developed by Rufus Isaacs at Michigan State University).
Seasonal Primer for Grape Production
Edith Byrne, Association Program Educator I
Lake Erie Regional Grape Program
Last Modified: March 14, 2013


Seasonal Primer for Grape Production
Upcoming Events
NDVI Sensor Scan
July 10 - August 26, 2014

Vine size plays an essential role in maximizing vineyard efficiency. Mapping a relative approximation of vine size offers the potential of improved average vine size through decreased variability.With NDVI research in its 5th year, we're confident with a little help from you we can make this technology commercially viable. Moving beyond block management and managing vine size within blocks can improve sampling, identify and quantify viticultural challenges, and even change management strategies. The first step is familiarizing yourself with your blocks and the identifying long-term vine size patterns. Please register for this event, we can provide the technology to do just that.
Coffee Pot Meeting

July 30, 2014
10:00am-12:00pm
Westfield, NY
These meetings are free of charge! Come join the small group discussion of what is happening in the vineyards this week. We look forward to seeing you!
Thompson Ag Pig Roast and Twilight Meeting
August 20, 2014
3:00-5:00pm
Silver Creek, NY
Come enjoy an evening of vineyard information and good food. The program is offered by LERGP, followed by the Thompson Ag Annual Pig Roast.
Please RSVP by calling Donna Merritt at 934-3808 between 8am and Noon.
Don't forget to bring a chair!
Announcements
Lake Erie Grapes in the News
The recent below zero temperatures we have across the Lake Erie grape belt has brought a renewed interest to grape production in the area, especially the impact on the cold sensitive wine varieties. Use the station links below to see the LERGP's Luke Haggerty discussing the cold temperatures effects on bud mortality across the region with reporters from
Channel 4
and
Channel 7
in Buffalo, NY.

Lake Erie Regional Grape Program - Cornell Cooperative Extension
Your Trusted Source for Research-Based Knowledge