IPM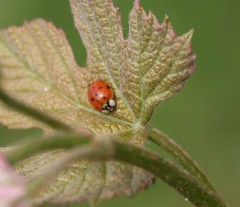 Grape growers benefit from implementing IPM - environmentally and economically sensible ways to protect crops from insects, plant diseases, weeds, and vertebrate pests. We work with grape processors, growers, local extension educators, faculty, crop consultants, and agricultural businesses to find IPM answers, develop new IPM methods, and deliver IPM information.
NYS IPM Program Mission: The New York State Integrated Pest Management Program develops sustainable ways to manage pests and helps people to use methods that minimize environmental, health and economic risks.

Most Recent IPM Summer Content
FIFRA 2(ee) Recommendations Available for Grape Rootworm Insecticides in NY
Tim Weigle, Team Leader, Statewide Grape IPM Specialist
Lake Erie Regional Grape Program
Last Modified: January 29, 2015

In conjunction with Greg Loeb, Professor, Department of Entomology, NYSAES, two replicated spray trials using 4 insecticides currently registered for use on grapes in New York State (Admire Pro, Danitol 2.4 EC, Leverage 360 and Sniper) were conducted by NYS IPM Program and LERGP staff in grower vineyards in the Lake Erie region.

Beta Testing of eNEWA for Grapes
Tim Weigle, Team Leader, Statewide Grape IPM Specialist
Lake Erie Regional Grape Program
Last Modified: February 10, 2014


Would you like to see the current weather and grape pest information found on NEWA without having to click through the website? Then eNEWA is for you. eNEWA is a daily email that contains current weather and pest model information from a station, or stations, near you. The email will contain; 1) high, low and average temperature, rainfall, wind speed and relative humidity 2) the 5-day forecast for these weather parameters, 3) GDD totals (Base 50F), 4) 5-day GDD (Base 50F) forecast and 5) model results for powdery mildew, black rot, Phomopsis and grape berry moth. The weather information is provided for not only the current day but for the past two days as well.
Insecticides for use in New York and Pennsylvania Vineyards (Table)
Edith Byrne, Association Program Educator I
Lake Erie Regional Grape Program
Last Modified: August 7, 2013


Coming up with the best timing of the various types of insecticides has always been a good topic of discussion. Andy Muza and Tim Weigle have put together a Table: Insecticides for use in New York and Pennsylvania Vineyards (based on one developed by Rufus Isaacs at Michigan State University).
Upcoming Events
Cover Crop Workshop and Field Day
September 1, 2016
9:00am-4:00pm
Portland, NY
Join the Lake Erie Regional Grape Program for a full day of education surrounding cover crops in Concord vineyards.
• Current research
• Leading scientists in cover crop research
• Tour demonstration plots
• Hear local growers sharing their experience
Fee $10; includes morning refreshments and lunch

Announcements
Cover Crop Workshop Registration is OPEN!
It is inevitable that portions of our area landscape changes. However, some Concord vineyards have been for over one hundred years. As a perennial crop, there are limited changes to the layout of our grape vineyards. With an intense regiment of management practices calls for various farm equipment to be driven up and down the grape rows multiple times a year. Over time, this has led to a range of soil health problems. To combat these problems, area grape growers are turning to cover crops to improve the soil in their vineyards.
As this the use in cover crops grows in popularity, many growers turn to the Lake Erie Regional Grape Program (LERGP) for recommendations on what to plant. Recognizing the need for research-based cover crop recommendations, LERGP applied for, and was awarded, a grant from the New York Farm Viability Institute. The funding has been used to measure how different cover crop mixes affect soil health and to sponsor a conference to educate interested grape growers. Although the concept of cover crops in vineyards is not new the idea of planting multiple species in a mix reared to a targeted outcome is. To address the many questions LERGP is hosting a "Cover Cropping in Concord Vineyards" conference September 1st. Conference participants will have the opportunity to learn about cover crops in a classroom setting and a chance to see test plots out in the field located at the Cornell Lake Erie Research and Extension Laboratory in Portland, NY.
The September 1st conference starts at 9 AM and will run until 4 PM. The CLEREL meeting facilities, 6592 West Main Road, Portland, NY 14769 will be used for the classroom portion of the program. Registration is $10 to cover refreshments and lunch. To register for the conference, please contact Kate at (716) 792-2800 or visit the Lake Erie Regional Grape Program website at http://lergp.cce.cornell.edu.



Lake Erie Regional Grape Program - Cornell Cooperative Extension
Your Trusted Source for Research-Based Knowledge