IPM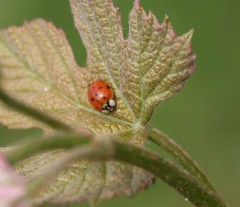 Grape growers benefit from implementing IPM - environmentally and economically sensible ways to protect crops from insects, plant diseases, weeds, and vertebrate pests. We work with grape processors, growers, local extension educators, faculty, crop consultants, and agricultural businesses to find IPM answers, develop new IPM methods, and deliver IPM information.
NYS IPM Program Mission: The New York State Integrated Pest Management Program develops sustainable ways to manage pests and helps people to use methods that minimize environmental, health and economic risks.

Most Recent IPM Summer Content
FIFRA 2(ee) Recommendations Available for Grape Rootworm Insecticides in NY
Tim Weigle, Team Leader, Statewide Grape IPM Specialist
Lake Erie Regional Grape Program
Last Modified: January 29, 2015

In conjunction with Greg Loeb, Professor, Department of Entomology, NYSAES, two replicated spray trials using 4 insecticides currently registered for use on grapes in New York State (Admire Pro, Danitol 2.4 EC, Leverage 360 and Sniper) were conducted by NYS IPM Program and LERGP staff in grower vineyards in the Lake Erie region.

Beta Testing of eNEWA for Grapes
Tim Weigle, Team Leader, Statewide Grape IPM Specialist
Lake Erie Regional Grape Program
Last Modified: February 10, 2014


Would you like to see the current weather and grape pest information found on NEWA without having to click through the website? Then eNEWA is for you. eNEWA is a daily email that contains current weather and pest model information from a station, or stations, near you. The email will contain; 1) high, low and average temperature, rainfall, wind speed and relative humidity 2) the 5-day forecast for these weather parameters, 3) GDD totals (Base 50F), 4) 5-day GDD (Base 50F) forecast and 5) model results for powdery mildew, black rot, Phomopsis and grape berry moth. The weather information is provided for not only the current day but for the past two days as well.
Insecticides for use in New York and Pennsylvania Vineyards (Table)
Edith Byrne, Association Program Educator I
Lake Erie Regional Grape Program
Last Modified: August 7, 2013


Coming up with the best timing of the various types of insecticides has always been a good topic of discussion. Andy Muza and Tim Weigle have put together a Table: Insecticides for use in New York and Pennsylvania Vineyards (based on one developed by Rufus Isaacs at Michigan State University).
Upcoming Events
Winery Control Workshop- Stabilize your wine- Filtration, SO2 and Potassium Sorbate
August 2, 2016
9:00am-4:00pm
Portland, NY
The use of sulfur dioxide and filtration to ensure bottle stability is a common practice within the wine industry. However, many producers also use potassium sorbate additions to inhibit re-fermentation of sweetened wines despite sulfur dioxide additions and utilization of sterile filtration. Enology experts from both Cornell and Penn State Universities will review how to best accomplish wine stability in the winery so that producers can improve production decisions. Attendees will walk away with a better understanding of how sulfur dioxide and potassium sorbate work in wine, what filtration accomplishes for wine stability, and how to implement quality control practices to ensure that wines are of minimal spoilage risk post-bottling. This workshop will also include a wine tasting to emphasize identification of the flavor associated with potassium sorbate additions and how it affects wine quality. The $50 includes all registration materials and lunch. This workshop is focused for winemakers, cellar staff, and enologists as it contains a production focus.
Grape Twilight Meeting and Erie County Horticultural Society's Annual Chicken BBQ

August 3, 2016
3:30pm-7:00pm
North East, PA
Come join us for an evening of education, chicken BBQ and good company. The chicken BBQ is FREE but registration is mandatory!! Please call Penn State Extension office at 814-825-0900 by July 22, 2016. If you do not register, a meal will not be reserved for you.
2016 Craft Beverage Summit
August 11, 2016
8:00am-4:00pm
Portland, NY
Join us for the inaugural Chautauqua County Craft Beverage Summit hosted by the Chautauqua County Department of Planning & Development in cooperation with Chautauqua County Cornell Cooperative Extension Association and the Lake Erie Regional Grape Program. Speakers will include owners of NYS craft breweries, cideries, wineries and distilleries. Malting barley, cooperatives, hops production and the potential for the craft beverage industry in NYS will be discussed with all aspects covered from producing the raw materials, producing a craft beverage, marketing the finished product and working together to bring a craft beverage operation to fruition in Chautauqua County.
Announcements
Frost Damage Identified
Frost Damage; Check your Buds!
Luke Haggerty
Viticulture Extension Educator
Lake Erie Grape Program

I traveled across the majority of the belt today (Friday April 29th) looking for frost damage from the frost event on April 26/27th. I found severe (90%) damage in parts of Cattaraugus, Erie and the north eastern part of Chautauqua counties. Damage in this area was not confined to low spots or frost pockets and could be found vineyard wide.
As I move west, most areas were unharmed. However... (a big however), I found frost damage in low spots and frost pockets. Areas I found damage in were along the railroad tracks in Portland and Westfield. Most of the damage in this area was confined to low spots and frost pockets.
My Message:
• There are some hard hit areas with 90%+ primary damage.
• Not all areas are damaged! Damage varies across the belt. Many unharmed vineyards.
• The impact on yields will be variable.
• I have not found any secondary bud damage. In some cases the secondary buds are already larger than the damaged primaries. So you need to evaluate your damage within the next week or so, before damage is obscured by the secondary shoots.
• From the road the buds look good, but they may not be. You have to break, cut, or simply pluck off the bud to see the damage. Like winter damage you are looking for brown, black and crunchy buds.
• If you have damage call your crop insurance agent.






Lake Erie Regional Grape Program - Cornell Cooperative Extension
Your Trusted Source for Research-Based Knowledge