LERGP Winter Conference Series
We will be holding 3 separate event dates as listed below-
Wednesdays: January 19, 2022 from 9a-12p(3 hr virtual Zoom meeting), February 16, 2022 from 9a-12p(3 hr virtual Zoom meeting), March 16, 2022(full day of programming in person at college)
Special speakers at all and DEC and PDA credits in Feb and March! See attached pdf for full agenda.
Registration will remain open for the events through the March 4 deadline for In Person conference. Please keep in mind that registration is for all 3 events and there is no a la carte, or prorated option. You can attend 1, 2 or all 3 parts of the series but the price will remain the same.
Mail In Registration Form (PDF; 169KB)
---
Event Details
LERGP 3 part Winter Conference series

Date
January 19, 2022
February 16, 2022
March 16, 2022

Time
9a-12p Jan and Feb- Full day in March
Cost
First Attendee : $100.00
(addl attendee $35.00 ea.)
attendance to all 3 events
Host
Lake Erie Regional Grape Program
LERGP 3 part Winter Conference series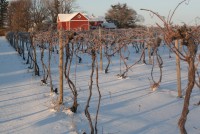 Join us for 3 great days of education!
On January 19 and February 16 we will hold a 3 hour virtual Zoom session with special guest speakers. In January, Terry Bates will be speaking about the MyEV tool and Vine balance and Kevin Martin will be speaking on bin versus bulk harvesting including information on a possible funding source for converting to bulk.
February 16-2022 Pest Management Spray Schedule - What's Your Plan? -
Speakers: Bryan Hed, Research Technologist (Plant Pathology), Lake Erie Regional Grape Research and Extension Center, Penn State; Andy Muza, Lake Erie Regional Grape Program Extension Team & Penn State Extension - Erie County, PA.
On March 16 we will have our annual in person conference at the Williams Center on the SUNY Fredonia campus. The agenda is attached as a pdf.
Upcoming Events
LERGP Winter Conference Series

January 19, 2022
February 16, 2022
March 16, 2022
: LERGP 3 part Winter Conference series
LERGP 3 part Winter conference series
Announcements
Variable rate fruit thinning video on MyEV
https://www.efficientvineyard.com/blog/variable-rate-fruit-thinning-for-concord-crop-load-balance
Assess Your Freeze Damage
Assess Your Freeze Damage with a MyEV data Collector- By Terry Bates
Freeze damage acro
ss eastern U.S. vineyards was highly variable this week depending on the stage of bud development, air temperatures, and vineyard location. Assessing bud damage over the next two weeks will help growers determine the size and variation in crop potential, adjust management practices, and record damage for crop insurance. In this video, Terry Bates shows you how to set up and use a MyEV data collector and a smartphone to collect and map freeze damage observations in your vineyard.
Recorded Coffee Pot Meetings
You may not be able to obtain Pesticide License Recertification points but you can gain plenty of valuable information by watching the
coffee pot meetings if you missed them! We have had some special guest speakers sharing valuable information with us!
Click the link below for access to all of the recorded LERGP Coffee Pot Meetings!
Recorded LERGP Coffee Pot Meetings
Hand sanitizer and Masks Still Available
Hand Sanitizer and Face Masks Still Available
It's not too late! If you haven't picked up your free NYS Clean hand sanitizer and washable Hanes masks, you still can. All farms in New York are eligible to request supplies. Click on this
link
to make the request. We will set up a time for you to come pick up the supplies at CLEREL in Portland.
LERGP Podcasts- check them out!
LERGP POD CASTS
Loaner Sensor Program
The loaner sensor program will not be available this growing season in light of the COVID -19 protocols. We offer our sincere apologies

Lake Erie Regional Grape Program - Cornell Cooperative Extension
Your Trusted Source for Research-Based Knowledge