FIFRA 2(ee) Recommendations for 5 Insecticides for Spotted Lanternfly in NY
Tim Weigle, Team Leader, Statewide Grape IPM Specialist
Lake Erie Regional Grape Program
October 18, 2018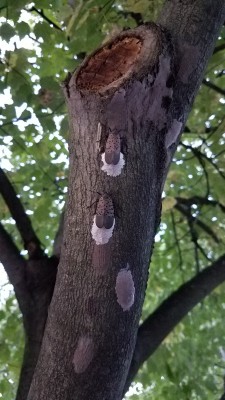 Using efficacy data developed by Dr. Dave Biddinger, Tree Fruit Entomologist with Penn State University, Dr. Greg Loeb, Professor of Entomology, Cornell University, applied for, and received, FIFRA 2(ee) Recommendations for five insecticides to include Spotted Lanternfly on their grape label. The materials are Actara Insecticide, Brigade WSB Insecticide/Miticide, Drexel Carbaryl 4L Insecticide, Danitol 2.4 EC Spray, and Mustang Maxx Insecticide.
The FIFRA 2(ee) recommendation allows the use of these materials against all life stages of spotted lanternfly but the insecticide must be used in a manner consistent with its labeling. The application rate for each product is on the FIFRA 2(ee) Recommendation. Users must have a copy of the product label AND the FIFRA 2(ee) Recommendation in their possession at the time of the pesticide application. Seasonal use limits found on the label are still in force and do not change with the addition of this pest to the label.
Copies of the FIFRA 2(ee) recommendations can be found on the Lake Erie Regional Grape Program homepage at http://lergp.com
For growers in Pennsylvania - there is no need for a FIFRA 2922) recommendation for insecticides that are labeled for use in grapes. In Pennsylvania, the pest does not need to be on the label, only the target - in this case, grapes.
Continue to monitor for spotted lanternfly adults and egg masses at this time.
FIFRA 2EE-Actara (pdf; 63KB)
FIFRA 2EE-Brigade (pdf; 63KB)
FIFRA 2EE-Danitol (pdf; 66KB)
FIFRA 2EE-Drexel Carbaryl (pdf; 63KB)
FIFRA 2EE-Mustang Maxx (pdf; 63KB)
Spotted Lantern Fly Fact sheet (pdf; 399KB)
Upcoming Events
2019 LERGP Winter Grape Grower Conference

March 13, 2019
8:00am-4:00pm
Fredonia, NY
Come spend the day with the LERGP team and fellow growers engaging in presentations, vendor trade show and conversation. Continental breakfast and a catered lunch are included in fee. Agenda will be available once complete. Giveaways and drawings for prizes!
CORE TRAINING

April 11, 2019
9:00am-12:00pm
Portland, NY
CORE TRAINING
WHEN: Thursday April 11 from 9 AM to 12:15 PM
WHERE: CLEREL Meeting room
COST: $15
3.0 Pesticide recertification credits in the CORE category have been applied for.
DEC Pesticide Applicator Test
April 11, 2019
1:00pm
Portland, NY
PRIVATE AND COMMERCIAL NYS PESTICIDE EXAMINATIONS
WHEN: 1 PM
WHERE: CLEREL Meeting room
COST: $100 REGISTRATION: NYS Department of Environmental Conservation (DEC) requires you to register for entrance to the exam session with the Buffalo DEC office at (716) 851-7220.
Announcements
Vineyard Improvement Program Applications
Vineyard Improvement Program: An Application Guide
LERGP.com also has more information about the program. Frequently asked questions, eligibility requirements, sample budgets and business plans are all available.
LERGP Podcasts- check them out!
http://lergp.com/podcasts/

Lake Erie Regional Grape Program - Cornell Cooperative Extension
Your Trusted Source for Research-Based Knowledge