FIFRA 2(ee) Recommendations for 5 Insecticides for Spotted Lanternfly in NY
Tim Weigle, Team Leader, Statewide Grape IPM Specialist
Lake Erie Regional Grape Program
October 18, 2018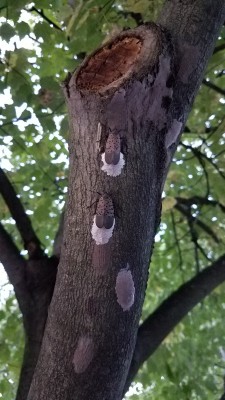 Using efficacy data developed by Dr. Dave Biddinger, Tree Fruit Entomologist with Penn State University, Dr. Greg Loeb, Professor of Entomology, Cornell University, applied for, and received, FIFRA 2(ee) Recommendations for five insecticides to include Spotted Lanternfly on their grape label. The materials are Actara Insecticide, Brigade WSB Insecticide/Miticide, Drexel Carbaryl 4L Insecticide, Danitol 2.4 EC Spray, and Mustang Maxx Insecticide.
The FIFRA 2(ee) recommendation allows the use of these materials against all life stages of spotted lanternfly but the insecticide must be used in a manner consistent with its labeling. The application rate for each product is on the FIFRA 2(ee) Recommendation. Users must have a copy of the product label AND the FIFRA 2(ee) Recommendation in their possession at the time of the pesticide application. Seasonal use limits found on the label are still in force and do not change with the addition of this pest to the label.
Copies of the FIFRA 2(ee) recommendations can be found on the Lake Erie Regional Grape Program homepage at http://lergp.com
For growers in Pennsylvania - there is no need for a FIFRA 2922) recommendation for insecticides that are labeled for use in grapes. In Pennsylvania, the pest does not need to be on the label, only the target - in this case, grapes.
Continue to monitor for spotted lanternfly adults and egg masses at this time.
FIFRA 2EE-Actara (pdf; 63KB)
FIFRA 2EE-Brigade (pdf; 63KB)
FIFRA 2EE-Danitol (pdf; 66KB)
FIFRA 2EE-Drexel Carbaryl (pdf; 63KB)
FIFRA 2EE-Mustang Maxx (pdf; 63KB)
Spotted Lantern Fly Fact sheet (pdf; 399KB)
Announcements
Save the Date- 2020 Winter Grape Grower Conference
Thursday, March 19, 2020
SUNY Fredonia William's Center
Agenda, Registration and Trade show info available in December
Loaner Sensor Program
The loaner sensor program is an outreach program designed to introduce interested growers to the technology developed by the Efficient Vineyard researchers. It involves a technician from the Lake Erie Regional Grape Program coming out to the farm to install or attach scanners and computers to existing equipment. The subsequent data collection is then completed during normal activity such as pesticide spraying. Once the data is collected it can be sent back to researchers to generate a prescription map. The DualEM soil sensor requires a technician to operate so if you would like to have a soil scan done of your vineyard, please contact the Portland, NY Cornell Extension office and make an appointment.
https://efficientvineyard.com/loaner-sensor-program
LERGP Podcasts- check them out!
http://lergp.com/podcasts/

Lake Erie Regional Grape Program - Cornell Cooperative Extension
Your Trusted Source for Research-Based Knowledge