FIFRA 2(ee) Recommendations for 5 Insecticides for Spotted Lanternfly in NY
Tim Weigle, Team Leader, Statewide Grape IPM Specialist
Lake Erie Regional Grape Program
October 18, 2018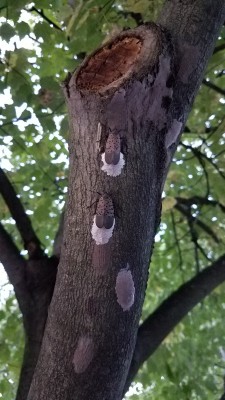 Using efficacy data developed by Dr. Dave Biddinger, Tree Fruit Entomologist with Penn State University, Dr. Greg Loeb, Professor of Entomology, Cornell University, applied for, and received, FIFRA 2(ee) Recommendations for five insecticides to include Spotted Lanternfly on their grape label. The materials are Actara Insecticide, Brigade WSB Insecticide/Miticide, Drexel Carbaryl 4L Insecticide, Danitol 2.4 EC Spray, and Mustang Maxx Insecticide.
The FIFRA 2(ee) recommendation allows the use of these materials against all life stages of spotted lanternfly but the insecticide must be used in a manner consistent with its labeling. The application rate for each product is on the FIFRA 2(ee) Recommendation. Users must have a copy of the product label AND the FIFRA 2(ee) Recommendation in their possession at the time of the pesticide application. Seasonal use limits found on the label are still in force and do not change with the addition of this pest to the label.
Copies of the FIFRA 2(ee) recommendations can be found on the Lake Erie Regional Grape Program homepage at http://lergp.com
For growers in Pennsylvania - there is no need for a FIFRA 2922) recommendation for insecticides that are labeled for use in grapes. In Pennsylvania, the pest does not need to be on the label, only the target - in this case, grapes.
Continue to monitor for spotted lanternfly adults and egg masses at this time.
FIFRA 2EE-Actara (pdf; 63KB)
FIFRA 2EE-Brigade (pdf; 63KB)
FIFRA 2EE-Danitol (pdf; 66KB)
FIFRA 2EE-Drexel Carbaryl (pdf; 63KB)
FIFRA 2EE-Mustang Maxx (pdf; 63KB)
Spotted Lantern Fly Fact sheet (pdf; 399KB)
Upcoming Events
No upcoming events at this time.
Announcements
My Efficient Vineyard Tool Tutorials
Did you know that the myEV web-site has tutorials on how to use the myEV tool from setting up the account to using it for data collection around your farm, and implementing the use into efficient management of your vineyards?
Recorded Coffee Pot Meetings
You may not be able to obtain Pesticide License Recertification points but you can gain plenty of valuable information by watching the
coffee pot meetings if you missed them! We have had some special guest speakers sharing valuable information with us!
Click the link below for access to all of the recorded LERGP Coffee Pot Meetings!
Recorded LERGP Coffee Pot Meetings
LERGP Podcasts- check them out!
LERGP POD CASTS

Lake Erie Regional Grape Program - Cornell Cooperative Extension
Your Trusted Source for Research-Based Knowledge