Soil and Petiole Testing
Edith Byrne, Association Program Educator I
Lake Erie Regional Grape Program
March 13, 2013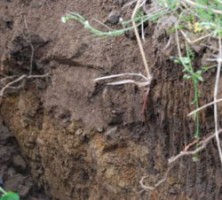 Why is it important?
Just as you would never medicate your children without knowing whether or not they actually have an infection,you need to be able to diagnose nutrient deficiencies in your vineyards. How to do it? Soil and petiole testing can provide a clear picture of what is going on in your vineyard. The soil tests will determine what nutrients are available to be taken up by the vines' roots, and the petiole tests will show whether or not the roots are actually absorbing those nutrients. Once you have the soil tests, you have one side of the story, and petiole tests will give you the other side of the vine nutrient story. A soil test can indicate that the soil pH, K, Mg, and N levels are all adequate, but if the vines are still puny, something else might be at work. This is where a petiole test comes in handy. Most likely, however, puny vines could be due to too much or too little water in the vineyard, and a large crop size will also affect overall vine size.
Regarding nitrogen application:
In reference to growers traditionally applying 100+ lbs. actual N/acre, one grower recently commented, "At $600 and up per ton, there is no such thing as tradition." He's got a good point. Instead of applying 100lbs actual N to every nook and cranny of your vineyard, just because it's what you (or your dad or grandpa or great-grandpa) always have done, take the time to get a soil test to determine whether you really need that much N everywhere. Nitrogen availability depends on organic matter in the soil, and each percent organic matter in the soil account for about 20 lbs. actual nitrogen/acre. Hans Walter-Peterson at the Finger Lakes Grape Program developed a worksheet to calculate nitrogen needs based on soil tests results. I recommend you take the time to assess your individual blocks to determine nitrogen needs through soil and petiole testing. You may be surprised by what you may (or may not) need.

Directions for Collecting Petiole SamplesSelecting the Vines
:
Select an area
containing at least 30-50 vines of the variety to be sampled if possible. These 30 vines should be representative of: (a) a problem area, or (b) the average of the vineyard. The final fertilizer suggestions will apply
ONLY
to the area represented by the selected vines.
Select 30-50 Vines
to represent the sample. If more than one area or block is being sampled, give each area a
REFERENCE NUMBER
and record this number for future reference. If you have the fields identified with either a number or a letter, this may be used for the reference number. When the diagnosis sheet is returned, it will refer to this field number/name.
Be sure to maintain thorough records of your sampling dates, techniques, and locations
. Maintaining proper records will enable you to observe patterns over time and to treat specific areas in a timely and efficient manner.
Remember
: Soil analysis in addition to petiole testing will provide the most accurate picture of what's going on in your vineyards. A soil or petiole test alone will not necessarily indicate whether a vine requires a specific nutrient or if the soil requires a change in the pH.
Collecting Petiole Samples
:
Time Of Collection
. Collect petiole samples
at bloom or 70 - 100 days after bloom (late August or early September)
. Samples should not be taken after harvest.
Materials Needed
: A 2 or 3 brown paper lunch bag.

Procedure
:
At BLOOM select a leaf opposite a cluster. At 70-100 days AFTER BLOOM, select the youngest mature leaf on a shoot bearing a cluster. Leaves should be well exposed to light and free from injury and disease. The petiole is the slender stem that attaches the leaf blade to the shoot.
Remove and discard the leaf blade and keep only the petiole. The 60-100 petioles constitute the sample. Place all 60-100 petioles in the paper bag and mark the identification number on the bag.
Collect no more than 2 leaves from each vine. Be sure to collect petioles throughout the vineyard to obtain a representative sample of the block.
Wash The Petioles
before they wilt to remove spray residue and dust. This may be done by dipping the petioles in a weak detergent solution (a couple of drops of Tide, etc., in 2-3 cups water) and then rinse quickly and thoroughly with clean water. Do not allow the petioles to remain in the detergent or rinse water for more than one minute. Blot the petioles dry on a paper towel or clean dish towel then place them loosely in the bag. Allow the petioles to dry at room temperature until they become crisp, or for a faster drying time, place bags in oven at 200°F for 30 minutes.
Basic Soil Sampling Instructions
:
WATCH SOIL TESTING VIDEO
Tools:
Spade and trowel or soil probe
Plastic bucket
Sampling bags (in kit)
Sampling sheet (in kit)
Pencil or pen and permanent marker
Plastic re-sealable bag

*Sampling techniques may vary slightly, depending on where they are submitted, so be sure to follow the proper instructions. This set of methods is based on the Cornell Nutrient Analysis Laboratory's (CNAL) protocol.
Methods:
Timing of soil sampling: Although soil sampling can be completed at any time of year, it is best to sample when soil is not too wet or to dry.
With a spade, dig a hole about 12 inches deep. Use the trowel to scrape along the side of the hole from about 0 to 8 inches below the surface into a container. Use this same technique for the subsurface sample (8 to 24 inches). Be sure to label separate samples.
A soil probe can be used to collect soil from 0-8 inch and 8-24 inch depths, and be sure to keep surface and sub-surface samples separate.
Place 1.5 cups dry soil into a labeled plastic bag and fill out forms completely for more accurate recommendations.
(For CNAL) Seal the form in the envelope provided and seal the plastic bag with the soil sample in the mail bag. Be sure to keep the mail bag attached to the envelope, which should be filled out properly.
Note
: For more accurate results in vineyards that are not uniform, select the most uniform blocks from which to sample and combine 5 to 6 samples from within a block, mix them thoroughly, then submit 1.5 cups of that as one sample. For instance, a vineyard with sandy loam soil at one end and more clay at the other, submit two samples for the two blocks within that vineyard.
Additionally,
to determine your soil type
, you can obtain a soil survey map from your county extension office, or you can use the USDA's Web Soil Survey page (
http://websoilsurvey.nrcs.usda.gov/app/
) to zone in on your land and determine soil type.
Announcements
Spotted Lantern Fly found in New York State
DEC AND DAM ANNOUNCE CONFIRMED FINDING OF SPOTTED LANTERNFLY IN ALBANY AND YATES COUNTIES
State Agencies Encourage Public to Report Findings of Invasive Pest. The New York State Departments of Environmental Conservation (DEC) and Agriculture and Markets (DAM) today confirmed that spotted lanternfly (SLF), an invasive pest from Asia, has been found in Albany and Yates counties. A single adult insect was discovered in a vehicle in the Capital District. In addition, a single adult insect was reported on a private Keuka Lake property in Penn Yan, Yates County. "DEC and our partners at the Department of Agriculture and Markets are closely tracking the spotted lanternfly, a destructive invasive pest, as part of our ongoing efforts to prevent its establishment and spread in New York. This pest has the potential to severely impact our state's agricultural and tourism industries," DEC Commissioner Basil Seggos said. "We are encouraging the public to send us information to bolster our efforts they are our eyes on the ground." Following both reported cases, DEC and DAM immediately began extensive surveys throughout the area. At this time, no additional insects have been found. DEC and DAM urge New Yorkers to report potential sightings to
spottedlanternfly@dec.ny.gov
. State Agriculture Commissioner Richard A. Ball said, "It's critical that we monitor for and control this invasive species, which can weaken plants and have a devastating impact on our farm crops and agricultural production, especially apples, grapes and hops. Since our farmers are among those facing the greatest potential impact, we ask them to join us in helping to watch for the spotted lanternfly, and signs of infestation, and report any sightings immediately. "SLF (photo attached) is a destructive pest that feeds on more than 70 plant species including tree-of-heaven (Ailanthus altissima), maples, apple trees, grapevine, and hops. SLF feedings can stress plants, making them vulnerable to disease and attacks from other insects. SLF also excretes large amounts of sticky "honeydew," which attracts sooty molds that interfere with plant photosynthesis, negatively affecting the growth and fruit yield of plants. SLF also has the potential to significantly hinder quality of life due to the honeydew and the swarms of insects it attracts. SLF was first discovered in Pennsylvania in 2014 and have since been found in New Jersey, Delaware and Virginia. Given the proximity to the Pennsylvania and New Jersey infestations, New York State is at high risk for infestation. While these insects can jump and fly short distances, they spread primarily through human activity. SLF lay their eggs on any number of surfaces such as vehicles, stone, rusty metal, outdoor furniture and firewood. Therefore, the insects can hitch rides on any outdoor item and be easily transported into and throughout New York. Jennifer Grant, Ph.D., Cornell University Director New York State IPM Program said, "Knowing that this pest was likely to arrive, we have been working with our State partner agencies to develop integrated strategies to get the word out and manage SLF in bgrapes, hops, apples and other susceptible crops. It's imperative that the public help slow the invasion and spread by reporting possible sightings and acting responsibly when traveling in quarantine areas. "Adult SLF are active from July to December. They are approximately one-inch long and half an inch wide at rest, with eye-catching wings. Adults begin laying eggs in October. Signs of an SLF infestation may include: Sap oozing or weeping from open wounds on tree trunks, which appear wet and give off fermented odors. One-inch-long egg masses that are brownish-gray, waxy and mud-like when new. Old egg masses are brown and scaly. Massive honeydew build-up under plants, sometimes with black sooty mold developing. Anyone that suspects they have found SLF is encouraged to send a photo to
spottedlanternfly@dec.ny.gov
. Please note the location of where the insect was found, egg masses, and/or infestation signs. DEC and DAM also encourage the public to inspect outdoor items such as vehicles, furniture, and firewood for egg masses. Anyone that visits the Pennsylvania or New Jersey Quarantine Areas should thoroughly inspect their vehicle, luggage and gear for SLF and egg masses before leaving and scrape off all egg masses.A Smartphone application is also available to help citizens and conservation professionals quickly and easily report new invasive species sightings directly to New York's invasive species database from their phones. For more information, visit
http://www.nyimapinvasives.org/
(leaves DEC website). DEC, DAM, New York State Office of Parks, Recreation and Historic Preservation and the US Department of Agriculture will continue to survey throughout the Capital District and the Finger Lakes focusing on travel corridors and high-risk areas. Extensive surveys will continue to be conducted in high-risk areas throughout the state as well as inspections of nursery stock, stone shipments, commercial transports, etc., from Pennsylvania. DEC and DAM will also continue its efforts to educate the public as well as industry personnel. For more information on SLF, visit
www.dec.ny.gov/animals/113303.html.
Connect with DEC on: Facebook, Twitter, Flickr, and Instagram
LERGP Podcasts- check them out!
http://lergp.com/podcasts/

Lake Erie Regional Grape Program - Cornell Cooperative Extension
Your Trusted Source for Research-Based Knowledge