PHENOLOGICAL STAGES: Early flowering: 25% of caps fallen
Edith Byrne, Association Program Educator I
Lake Erie Regional Grape Program
January 9, 2013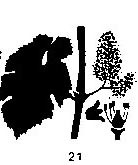 What to be doing (Early flowering: 25% of caps fallen):

Trace Bloom:Bloom:
Row-middle management; Continue disease management protocols
Botrytis spray if average temperature is <60F and there is abundant rainfall
MONITORING REQUIRED: weather parameters of temperature, precipitation and leaf wetness
INOCULUM AVAILABLE FOR INFECTION
Powdery Mildew
Downy Mildew
Phomopsis
Botrytis bunch rot
Black Rot
Postbloom:
Upcoming Events
No upcoming events at this time.
Announcements
My Efficient Vineyard Tool Tutorials
Did you know that the myEV web-site has tutorials on how to use the myEV tool from setting up the account to using it for data collection around your farm, and implementing the use into efficient management of your vineyards?
Recorded Coffee Pot Meetings
You may not be able to obtain Pesticide License Recertification points but you can gain plenty of valuable information by watching the
coffee pot meetings if you missed them! We have had some special guest speakers sharing valuable information with us!
Click the link below for access to all of the recorded LERGP Coffee Pot Meetings!
Recorded LERGP Coffee Pot Meetings
LERGP Podcasts- check them out!
LERGP POD CASTS

Lake Erie Regional Grape Program - Cornell Cooperative Extension
Your Trusted Source for Research-Based Knowledge