Insecticides for use in New York and Pennsylvania Vineyards (Table)
Edith Byrne, Association Program Educator I
Lake Erie Regional Grape Program
August 7, 2013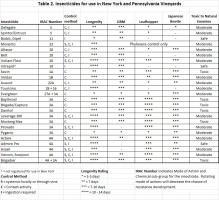 Coming up with the best timing of the various types of insecticides has always been a good topic of discussion. Andy Muza and Tim Weigle have put together a Table:
Insecticides for use in New York and Pennsylvania Vineyards
(
based on one developed by Rufus Isaacs at Michigan State University
).
The hope is that this Table will be of help in determining the different modes of action to assist you, the grower, in selecting the best insecticide and timings as well as to assist you in developing a resistance management program. Time materials that need to be ingested close to 1620 DD as determined by the GBM model on NEWA and for contact materials wait an additional 100 DD and apply them at 1720 for the best efficacy.
To get the latest in model information for both
grape berry moth
and the grape diseases,
powdery mildew
,
downy mildew
,
black rot
and
Phomopsis
, get on the NEWA website at
http://newa.cornell.edu
and access the station, or stations, nearest you.
Insecticides for use in New York and Pennsylvania Vineyards (pdf; 485KB)
Upcoming Events
2024 LERGP Spray Program

December 5, 2023
Announcements
Commercial Vehicle Awareness slide presentation
NYS Trooper, Matt Luft, presented on Commercial Vehicle Awareness at CLEREL on Thursday, August 2nd. He has given us the permission to share his slides for you to reference at your convenience to share with others or to review. Please reference this link.
Straight Talk: Is H-2A Working Out in the Vineyard
Check out the story below. Our local grower Andy Knight is one of the 3 growers interviewed.
https://www.growingproduce.com/fruits/grapes/how-h-2a-is-working-out-in-the-vineyard/
Spotted Lanternfly Public Service Announcement
Please take a look at this PSA on YouTube. It is narrated by our very own Jennifer Phillips Russo.
If you see a Spotted Lanternfly:
1-Take a photo
2-Collect it
4-Report it
LERGP Podcasts- check them out!
LERGP POD CASTS

Lake Erie Regional Grape Program - Cornell Cooperative Extension
Your Trusted Source for Research-Based Knowledge