Cultural Practices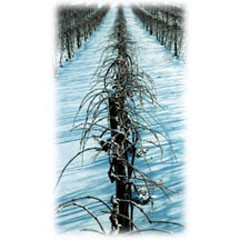 Vineyard Nutrition
Just as in humans, nutritional balance within the vine is essential to consistent fruit quality and quantity. How do you balance nutrition in the vineyard? While the majority of nutritional management can be dealt with prior to planting, such as adjusting soil pH and organic matter, vineyard soil management is a continual process and requires monitoring to ensure healthy, productive vines. It's better to maintain proper soil health practices than to try to correct problems when leaf symptoms are visible. How can you keep an eye on vineyard nutrition? Soil and petiole testing will help you monitor nutrients available in the soil and in the plants. We recommend doing
BOTH
soil and petiole testing to verify that what you have available in the soil is actually getting into the vines. If a petiole test result indicates a deficiency, but soil test results indicate adequate levels of a nutrient, an alternative problem, such as improper soil pH or inadequate water drainage, could be the culprit.
CULTURAL PRACTICES CATEGORIES
Most Recent Cultural Practices Winter Content
Beta Testing of eNEWA for Grapes
Tim Weigle, Team Leader, Statewide Grape IPM Specialist
Lake Erie Regional Grape Program
Last Modified: February 10, 2014


Would you like to see the current weather and grape pest information found on NEWA without having to click through the website? Then eNEWA is for you. eNEWA is a daily email that contains current weather and pest model information from a station, or stations, near you. The email will contain; 1) high, low and average temperature, rainfall, wind speed and relative humidity 2) the 5-day forecast for these weather parameters, 3) GDD totals (Base 50F), 4) 5-day GDD (Base 50F) forecast and 5) model results for powdery mildew, black rot, Phomopsis and grape berry moth. The weather information is provided for not only the current day but for the past two days as well.
Where in New York Are You? / Some added Resources
Edith Byrne, Association Program Educator I
Lake Erie Regional Grape Program
Last Modified: November 13, 2013


Choose the regional program that best meets your needs.
Fruit Thinning in Wine Grape Varieties
Last Modified: July 22, 2013


Fruit Thinning in Wine Grape Varieties
by Hans Walter-Peterson

Cluster thinning is often employed in wine varieties to help achieve a certain crop load and quality level. The amount of fruit to remove from a given vine is a function of many individual factors, including vine vigor, variety and rootstock, growing season conditions, and even the contract with the buyer. Because conditions in eastern North America can vary greatly from year to year, the need for cluster thinning and the amount to be removed can also change every season. The goal of cluster thinning, then, is to achieve both the quality and quantity parameters that will satisfy both the grower and their buyers.

Upcoming Events
2015 Reporting Session for Current Projects and Future Proposals
February 27, 2015
9:00am-12:00pm
Portland, NY
A project reporting session is scheduled for Friday, February 27, 2015 at the Cornell Lake Erie Research and Extension Laboratory located at 6592 West Main Rd. Portland, NY. This location will serve as the primary location, but some of the presenters will be presenting from Geneva via polycom. The meeting will begin at 9:00am and run until approximately Noon. Updates on projects funded by the Lake Erie Regional Grape Program Research and Extension Program, Inc. (the group charged with dispersing the 75 cents per ton voluntary assessment for Concords produced in the Lake Erie Region), New York Wine and Grape Foundation, New York Wine Grape Growers Association and Viticulture Consortium East, will be presented, as well as, short presentations on proposed new projects. The meeting format is designed to encourage discussion between those who are conducting or proposing projects, the funders, and the grower community by limiting presentations to 5 minutes and eliminating the use of visual aids. This reporting session is open to the public. The funding session to follow is open only to members of the funding committee.
2015 Winter Grape Grower Conference

March 16, 2015
8:00am-4:00pm
Fredonia, NY
Please join us for our annual Winter Grape Grower Conference. This is a great day to meet up with fellow growers to participate in talks & panel discussions and to enjoy great food and company! A tentative agenda is available in details.
HOPS Conference
June 27, 2015
8:00am-4:00pm
Portland, NY
Save the date for our annual HOPS conference. We don't have the day planned yet, but put it on your calendar so you don't miss it!
Announcements
2014 CAPS project report available
The NY Commodity Ag Pest Survey for grapes is now available in the IPM section of our website
Lake Erie Grapes in the News
The recent below zero temperatures we have across the Lake Erie grape belt has brought a renewed interest to grape production in the area, especially the impact on the cold sensitive wine varieties. Use the station links below to see the LERGP's Luke Haggerty discussing the cold temperatures effects on bud mortality across the region with reporters from
Channel 4
and
Channel 7
in Buffalo, NY.

Lake Erie Regional Grape Program - Cornell Cooperative Extension
Your Trusted Source for Research-Based Knowledge