Event Details
Date
March 20, 2014
Time
8:00am-4:00pm
Location
Williams Center
SUNY FREDONIA Campus
Fredonia, NY 14063
Cost
$40.00 LERGP Member
(additional attendee $35.00 ea.)

$100.00 Non-Member
(additional attendee $100.00 ea.)


Host
Lake Erie Regional Grape Program
Pre-Registration Deadline: March 17, 2014

EVENT HAS PASSED
2014 Winter Grape Growers Conference
March 20, 2014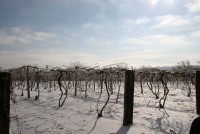 Mark your calendars, the date has been set for the 2014 Lake Erie Regional Grape Program's Winter Grape Grower Conference. Come join fellow grape growers for an educational day of lectures and discussion panels. An agenda is in development stages right now, but you can plan on seeing topics on up and coming GIS and sensory work, as well as, always pertinent, topics such as trellissing, soil development and Pest Management applications. DEC credits will be available.
We will be holding this event at the Williams Center located on the SUNY Fredonia Campus this year. The renovations are complete and they are happy to be hosting us again. The renovations are going to allow us to hold the entire conference within the Williams Center. There will be no need to be walking on icy pathwways or going in and out of the cold. Once you arrive, you will spend the entire day right there in one building and everything is handicap accessible.
Grower Registration Form (PDF; 307KB)
Agenda (PDF; 220KB)
Upcoming Events
2019 LERGP Winter Grape Grower Conference

March 13, 2019
8:00am-4:00pm
Fredonia, NY
Come spend the day with the LERGP team and fellow growers engaging in presentations, vendor trade show and conversation. Continental breakfast and a catered lunch are included in fee. Agenda will be available once complete. Giveaways and drawings for prizes!
CORE TRAINING

April 11, 2019
9:00am-12:00pm
Portland, NY
CORE TRAINING
WHEN: Thursday April 11 from 9 AM to 12:15 PM
WHERE: CLEREL Meeting room
COST: $15
3.0 Pesticide recertification credits in the CORE category have been applied for.
DEC Pesticide Applicator Test
April 11, 2019
1:00pm
Portland, NY
PRIVATE AND COMMERCIAL NYS PESTICIDE EXAMINATIONS
WHEN: 1 PM
WHERE: CLEREL Meeting room
COST: $100 REGISTRATION: NYS Department of Environmental Conservation (DEC) requires you to register for entrance to the exam session with the Buffalo DEC office at (716) 851-7220.
Announcements
Vineyard Improvement Program Applications
Vineyard Improvement Program: An Application Guide
LERGP.com also has more information about the program. Frequently asked questions, eligibility requirements, sample budgets and business plans are all available.
LERGP Podcasts- check them out!
http://lergp.com/podcasts/

Lake Erie Regional Grape Program - Cornell Cooperative Extension
Your Trusted Source for Research-Based Knowledge