Event Details
Date
March 15, 2017
Time
8:00am-4:00pm
Location
Williams Center at SUNY Fredonia
280 Central Avenue
Fredonia, NY 14063
Cost
$50.00 LERGP Member
(additional attendee $40.00 ea.)

$100.00 Non LERGP member



Host
Pre-Registration Deadline: March 14, 2017

EVENT HAS PASSED
2017 LERGP Annual Winter Grower Conference
March 15, 2017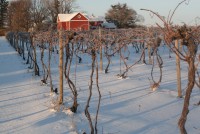 If you are interested in how technology is going to change the way you grow grapes in the future you will be interested in the morning session that is devoted to project updates for the Efficient Vineyard SCRI project.

The afternoon will have speakers on how to make Crop Insurance work for you and the ever important pesticide recertification credits. We got a Valentine 's Day present from the NYS DEC yesterday when they informed us that we will be able to provide 2.00 credits for attending the afternoon presentations. We are still waiting to hear back from PDA but typically they provide double the credits of DEC (PDA gives 1 credit per half hour talk while DEC gives 1 credit per hour of talk) so we are hoping to provide 4.0 credits for the afternoon talks for those with a Pennsylvania pesticide applicators license.
Check out the LERGP Grape Growers' Conference promo at
https://youtu.be/E_b_4sfX6ew
to see and hear, first-hand, the sights and sounds of the conference, including an interview with Luke Haggerty on what the conference provides.
You can register on-line on the LERGP website at:
https://lergp.cce.cornell.edu/event_preregistration.php?event=281
Or use the registration form that follows.
If you have any questions about the registration process please contact Kate at (716) 792-2800.
Grower Registration Form (PDF; 355KB)
Agenda (PDF; 283KB)
Upcoming Events
2019 LERGP Winter Grape Grower Conference

March 13, 2019
8:00am-4:00pm
Fredonia, NY
Come spend the day with the LERGP team and fellow growers engaging in presentations, vendor trade show and conversation. Continental breakfast and a catered lunch are included in fee. Agenda will be available once complete. Giveaways and drawings for prizes!
Announcements
Vineyard Improvement Program Applications
Vineyard Improvement Program: An Application Guide
LERGP.com also has more information about the program. Frequently asked questions, eligibility requirements, sample budgets and business plans are all available.
Come Join Our Team!
Lake Erie Regional Grape Program Viticulture Extension Specialist Position Open-
The Lake Erie Regional Grape Program is an Extension team made up of collaborative efforts between Cornell and Penn State Universities and 5 county Extension offices. It is housed in Chautauqua County, NY in the middle of the Lake Erie Grape Belt, which runs from Niagara County, NY to Erie County, PA and consists of over 31,000 acres of grapes. This program partners with industry (Welch, National Grape, Constellation Brands, Walker's Wine Juice) to help to maintain and improve the vineyard operations in this region. The program is housed in a state of the art facility built in 2009. We work collaboratively with the Cornell Research team that currently is working on a 2.8 million dollar SCRI grant focusing on mechanized vineyard management and digital data collection, "Efficient Vineyard".
Areas of Work Interest:
Grower Education through traditional and innovative means
Vineyard Mechanization
Bud Hardiness
Vine Health
For more information or to apply, please use this link:
Tim Weigle, LERGP Team Leader 716-792-2802 thw4@cornell.edu
LERGP Podcasts- check them out!
http://lergp.com/podcasts/

Lake Erie Regional Grape Program - Cornell Cooperative Extension
Your Trusted Source for Research-Based Knowledge