Event Details
Date
March 15, 2017
Time
8:00am-4:00pm
Location
Williams Center at SUNY Fredonia
280 Central Avenue
Fredonia, NY 14063
Cost
$50.00 LERGP Member
(additional attendee $40.00 ea.)

$100.00 Non LERGP member



Host
Pre-Registration Deadline: March 14, 2017

EVENT HAS PASSED
2017 LERGP Annual Winter Grower Conference
March 15, 2017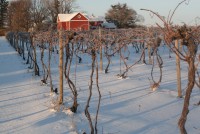 If you are interested in how technology is going to change the way you grow grapes in the future you will be interested in the morning session that is devoted to project updates for the Efficient Vineyard SCRI project.

The afternoon will have speakers on how to make Crop Insurance work for you and the ever important pesticide recertification credits. We got a Valentine 's Day present from the NYS DEC yesterday when they informed us that we will be able to provide 2.00 credits for attending the afternoon presentations. We are still waiting to hear back from PDA but typically they provide double the credits of DEC (PDA gives 1 credit per half hour talk while DEC gives 1 credit per hour of talk) so we are hoping to provide 4.0 credits for the afternoon talks for those with a Pennsylvania pesticide applicators license.
Check out the LERGP Grape Growers' Conference promo at
https://youtu.be/E_b_4sfX6ew
to see and hear, first-hand, the sights and sounds of the conference, including an interview with Luke Haggerty on what the conference provides.
You can register on-line on the LERGP website at:
https://lergp.cce.cornell.edu/event_preregistration.php?event=281
Or use the registration form that follows.
If you have any questions about the registration process please contact Kate at (716) 792-2800.
Grower Registration Form (PDF; 355KB)
Agenda (PDF; 283KB)
Upcoming Events
Enroll in e-NEWA for Grapes
May 2 - August 30, 2018

Enroll to receive a daily reminder of the Pest Potential in your Vineyard Operation
LERGP Coffee Pot Meeting

May 30, 2018
10:00am
Fredonia, NY
Come join the LERGP team and fellow growers for pertinent discussion on what is happening in your vineyard right now.
Hop yard Tour at CLEREL
June 5, 2018
6:00pm-7:30pm
Portland, NY
Come join us for an evening learning about hops and taking a tour through our hop yards.

Lake Erie Regional Grape Program - Cornell Cooperative Extension
Your Trusted Source for Research-Based Knowledge