Event Details
Date
August 15, 2019
Time
8:30am-4:30am
Location
Broome County Farmer's Market
840 Front St.
Binghamton, NY 13905
Cost
$50.00 Attendance to conference with lunch & breaks
(additional attendee $50.00 ea.)

At the Door
$65.00 Walk-in registration -CHECK PAYMENT ONLY!

Host
NYS IPM
Tim Weigle
716-792-2800 ext 203
email Tim Weigle
Pre-Registration Deadline: August 13, 2019

EVENT HAS PASSED
Spotted Lanternfly-NYS IPM Conference
August 15, 2019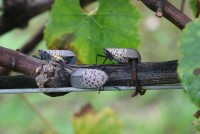 You are invited to join in the battle against the Spotted Lanternfly Invasion by getting the latest information at the NYS IPM Conference on Spotted Lanternfly on August 15, 2019. Experts in spotted lanternfly research, regulation and extension will be on hand to give an update from their experiences with Spotted Lanternfly on the front lines within the quarantine zones of Southeast Pennsylvania. Research faculty and Extension staff from Penn State have been working with members of the Pennsylvania Department of Agriculture since 2014 on controlling the spread of Spotted Lanternfly and will be on hand to share their first hand experiences.

Representatives from the NYS IPM Program, Cornell University, NYS Department of Ag & Markets, NYS Department of Environmental Conservation and Finger Lakes Partnership for Regional Invasive Species Management (PRISM) will be on also be on hand to let you know what is being done to keep Spotted Lanternfly from becoming established into NYS. If you own a business or travel to any of the quarantine zones, you'll definitely want to hear about the New York State External Quarantine and the steps you need to take to be in compliance.

Who should attend? This invasive pest affects horticultural and agricultural crops, ornamentals, landscape, forests, and shade trees in residential areas so every resident of New York could potentially be affected if Spotted Lanternfly becomes established in New York. Growers, Landscapers, Greenhouse and Nursery Operations, Christmas Tree Growers, Foresters, Master Gardeners, Master Foresters and Residents are just some of the groups who will benefit from attending this meeting.

Cost is $50 which includes a catered lunch and breaks. Pre-registration ends Tuesday, August 13 at midnight.
Day of Walk in registration is $65.00-CHECK PAYMENT ONLY!
Make check payable to CORNELL UNIVERSITY
NYSDEC has approved 6 pesticide recertification credits in the following categories: 1A, 2, 3A, 6A, 9, 10, 22, 25
An application for recertification credits for Pennsylvania pesticide applicators has also been submitted.

DIETARY RESTRICTIONS: Please e-mail Kate Robinson at kjr45@cornell.edu with any dietary needs or restrictions.
SLF Agenda (PDF; 362KB)
Upcoming Events
Eastern Winery Exposition
March 10 - March 12, 2020

Lancaster, PA
The largest wine and grape trade show and conference east of the Pacific states, EWE will include three single-topic workshops on the first day, followed by two days of multiple sessions on three tracks: enology, viticulture and money/marketing/ management.
Northern Grapes Webinar- Growing Grapes without Glyphosate
March 17, 2020
1:00pm
Lynn Sosnoskie
Assistant Professor - Cornell University
Cornell AgriTech Campus, Geneva, NY
Lynn started as an assistant professor working in Weed Ecology and Management of specialty crops at Cornell AgriTech in September of 2019. Since completing her PhD at Ohio State she has served in research and extension in Wisconsin, Georgia, Washington, and California. Her research primarily focuses on glyphosate-resistant Palmer amaranth and the biology, ecology, and management of bindweed.
2020 LERGP Winter Grape Growers' Conference

March 19, 2020
8:00am-4:30am
Fredonia, NY
Save the date for March 19, 2020 to come join LERGP, fellow growers, special speakers and vendors in a full day of education and camaraderie. A full and diverse agenda and delicious food await! We hope to see everyone there.
Announcements
Save the Date- 2020 Winter Grape Grower Conference
Thursday, March 19, 2020
SUNY Fredonia William's Center
Agenda, Registration and Trade show info available in December
Loaner Sensor Program
The loaner sensor program is an outreach program designed to introduce interested growers to the technology developed by the Efficient Vineyard researchers. It involves a technician from the Lake Erie Regional Grape Program coming out to the farm to install or attach scanners and computers to existing equipment. The subsequent data collection is then completed during normal activity such as pesticide spraying. Once the data is collected it can be sent back to researchers to generate a prescription map. The DualEM soil sensor requires a technician to operate so if you would like to have a soil scan done of your vineyard, please contact the Portland, NY Cornell Extension office and make an appointment.
https://efficientvineyard.com/loaner-sensor-program
LERGP Podcasts- check them out!
http://lergp.com/podcasts/

Lake Erie Regional Grape Program - Cornell Cooperative Extension
Your Trusted Source for Research-Based Knowledge