IPM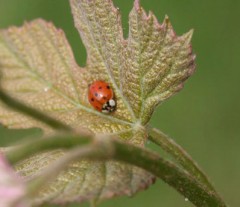 Grape growers benefit from implementing IPM - environmentally and economically sensible ways to protect crops from insects, plant diseases, weeds, and vertebrate pests. We work with grape processors, growers, local extension educators, faculty, crop consultants, and agricultural businesses to find IPM answers, develop new IPM methods, and deliver IPM information.
NYS IPM Program Mission: The New York State Integrated Pest Management Program develops sustainable ways to manage pests and helps people to use methods that minimize environmental, health and economic risks.

Most Recent IPM Spring Content
Spotted Lantern Fly Distribution (updated)
Tim Weigle, Team Leader, Statewide Grape IPM Specialist
Lake Erie Regional Grape Program
Last Modified: May 21, 2019

Spotted Lanternfly Update
While there are currently no known infestations in New York State we continue to find spotted lanternfly (SLF) hitchhiking into New York State. As you can see in the map below, SLF has been reported in 11 New York counties. Because there are no know infestation our current management strategy is based on proper identification and reporting spottedlanternfly@dec.ny.gov. The current life stage(s) to be vigilant for are egg masses (photo). Spotted lanternfly appear to be willing to lay their eggs on any surface so it is important to be vigilant in inspecting anything coming out of the quarantined areas. First instar nymphs will be emerging soon and can be identified by the white spots on their black bodies.
FIFRA 2(ee) Recommendations for 5 Insecticides for Spotted Lanternfly in NY
Tim Weigle, Team Leader, Statewide Grape IPM Specialist
Lake Erie Regional Grape Program
Last Modified: October 18, 2018

Spotted Lantern Fly found in New York State
Kate Robinson, Administrative Assistant
Lake Erie Regional Grape Program
Last Modified: September 14, 2018
The invasive species Spotted Lantern Fly has made its way to New York. Please read the following press release. We need your help to keep an eye out for these problematic pests.
Upcoming Events
LERGP Coffee Pot Meeting #9

June 29, 2022
Westfield, NY
Come join us for discussion on pertinent and timely vineyard topics and issues. Enjoy good company, coffee and donuts!
LERGP Coffee Pot Meeting #10

July 6, 2022
Ransomville, NY
Come join us for discussion on pertinent and timely vineyard topics and issues. Enjoy good company, coffee and donuts!
H-2A Informational Program
July 11, 2022
Come learn about H-2A regulations and the filing process from special speakers and growers who have experience with it.
Announcements
The NY Concord Grape Innovation Award Competition
The New York Concord Grape Innovation Award is a competition focused on a traditional crop with more than 200 years of history in New York and stimulating the innovation needed for the development of new products and markets for this important commodity.
Innovation awards, totaling over $100,000 in cash prizes and packages of expert support, will be given to companies or organizations that develop innovative concord grape-based products that substantially increase demand and utilization of New York-grown concord grapes.
Variable rate fruit thinning video on MyEV
https://www.efficientvineyard.com/blog/variable-rate-fruit-thinning-for-concord-crop-load-balance
Assess Your Freeze Damage
Assess Your Freeze Damage with a MyEV data Collector- By Terry Bates
Freeze damage acro
ss eastern U.S. vineyards was highly variable this week depending on the stage of bud development, air temperatures, and vineyard location. Assessing bud damage over the next two weeks will help growers determine the size and variation in crop potential, adjust management practices, and record damage for crop insurance. In this video, Terry Bates shows you how to set up and use a MyEV data collector and a smartphone to collect and map freeze damage observations in your vineyard.
Recorded Coffee Pot Meetings
You may not be able to obtain Pesticide License Recertification points but you can gain plenty of valuable information by watching the
coffee pot meetings if you missed them! We have had some special guest speakers sharing valuable information with us!
Click the link below for access to all of the recorded LERGP Coffee Pot Meetings!
Recorded LERGP Coffee Pot Meetings
Hand sanitizer and Masks Still Available
Hand Sanitizer and Face Masks Still Available
It's not too late! If you haven't picked up your free NYS Clean hand sanitizer and washable Hanes masks, you still can. All farms in New York are eligible to request supplies. Click on this
link
to make the request. We will set up a time for you to come pick up the supplies at CLEREL in Portland.
LERGP Podcasts- check them out!
LERGP POD CASTS
Loaner Sensor Program
The loaner sensor program will not be available this growing season in light of the COVID -19 protocols. We offer our sincere apologies

Lake Erie Regional Grape Program - Cornell Cooperative Extension
Your Trusted Source for Research-Based Knowledge