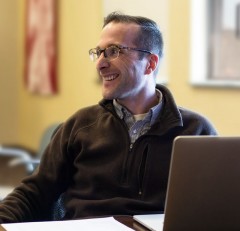 Kevin Martin
Extension Educator, Business Management
CLEREL
6592 West Main Road
Portland, NY 14769
phone 716-397-9674
email Kevin
Kevin Martin has had a lifelong interest in the Lake Erie Grape Region. While he didn't know it at the time, growing up on a vineyard was providing invaluable future job experience. He did not realize, initially, his professional interests would lead to a career related to his childhood experiences. With a Juris Doctorate and a graduate degree in Public Administration, his work now focuses on business and financial planning. He also provides benchmarking to analyze the costs and benefits of evolving production practices. Technology, including canopy sensors, is a current hot topic facilitating an evolution in management strategies going forward.
Upcoming Events
LERGP Coffee Pot Meeting #9

June 29, 2022
Westfield, NY
Come join us for discussion on pertinent and timely vineyard topics and issues. Enjoy good company, coffee and donuts!
LERGP Coffee Pot Meeting #10

July 6, 2022
Ransomville, NY
Come join us for discussion on pertinent and timely vineyard topics and issues. Enjoy good company, coffee and donuts!
H-2A Informational Program
July 11, 2022
Come learn about H-2A regulations and the filing process from special speakers and growers who have experience with it.
Announcements
The NY Concord Grape Innovation Award Competition
The New York Concord Grape Innovation Award is a competition focused on a traditional crop with more than 200 years of history in New York and stimulating the innovation needed for the development of new products and markets for this important commodity.
Innovation awards, totaling over $100,000 in cash prizes and packages of expert support, will be given to companies or organizations that develop innovative concord grape-based products that substantially increase demand and utilization of New York-grown concord grapes.
Variable rate fruit thinning video on MyEV
https://www.efficientvineyard.com/blog/variable-rate-fruit-thinning-for-concord-crop-load-balance
Assess Your Freeze Damage
Assess Your Freeze Damage with a MyEV data Collector- By Terry Bates
Freeze damage acro
ss eastern U.S. vineyards was highly variable this week depending on the stage of bud development, air temperatures, and vineyard location. Assessing bud damage over the next two weeks will help growers determine the size and variation in crop potential, adjust management practices, and record damage for crop insurance. In this video, Terry Bates shows you how to set up and use a MyEV data collector and a smartphone to collect and map freeze damage observations in your vineyard.
Recorded Coffee Pot Meetings
You may not be able to obtain Pesticide License Recertification points but you can gain plenty of valuable information by watching the
coffee pot meetings if you missed them! We have had some special guest speakers sharing valuable information with us!
Click the link below for access to all of the recorded LERGP Coffee Pot Meetings!
Recorded LERGP Coffee Pot Meetings
Hand sanitizer and Masks Still Available
Hand Sanitizer and Face Masks Still Available
It's not too late! If you haven't picked up your free NYS Clean hand sanitizer and washable Hanes masks, you still can. All farms in New York are eligible to request supplies. Click on this
link
to make the request. We will set up a time for you to come pick up the supplies at CLEREL in Portland.
LERGP Podcasts- check them out!
LERGP POD CASTS
Loaner Sensor Program
The loaner sensor program will not be available this growing season in light of the COVID -19 protocols. We offer our sincere apologies

Lake Erie Regional Grape Program - Cornell Cooperative Extension
Your Trusted Source for Research-Based Knowledge