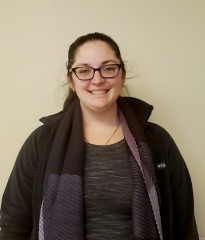 Megan Luke
PSU Viticulture and Tree Fruit Educator
cell 716-397-9674
email Megan
I am a Chautauqua County NY native; recently moved back to the area after 15 years in Northern California. I hold a Bachelor of Science in Agriculture Science and a Master of Science in Interdisciplinary Studies: Integrated Pest Management and Agroecology. I've spent my career working in diverse perennial cropping systems in commercial settings and have knowledge of both conventional and organic practices. Focuses of my past research include pest and pathogen identification, mapping, and management; precision agriculture practices; improvement of monitoring and scouting practices; and determining economic thresholds for treatment.
I have had opportunities to work with commodity boards, growers, and the academic community to determine best strategies and topics in research to benefit local agricultural communities; I look forward to establishing these relationships here in the Lake Erie region. Additionally, my time as a part-time faculty member in the College of Agriculture at California State University, Chico instilled a deep appreciation for the importance of educational programming, and I look forward to bringing relevant and timely content to my grower community.
Following in the footsteps of Andy Muza, I will be taking over the pest and disease scouting updates for the coming season and am excited to start spending some time outdoors. Along with updates about current conditions in our local vineyards, there will be short tutorials on using software, websites, apps, and technology to map and strategize seasonal management plans.
Upcoming Events
2024 LERGP Spray Program

December 5, 2023
Announcements
Commercial Vehicle Awareness slide presentation
NYS Trooper, Matt Luft, presented on Commercial Vehicle Awareness at CLEREL on Thursday, August 2nd. He has given us the permission to share his slides for you to reference at your convenience to share with others or to review. Please reference this link.
Straight Talk: Is H-2A Working Out in the Vineyard
Check out the story below. Our local grower Andy Knight is one of the 3 growers interviewed.
https://www.growingproduce.com/fruits/grapes/how-h-2a-is-working-out-in-the-vineyard/
Spotted Lanternfly Public Service Announcement
Please take a look at this PSA on YouTube. It is narrated by our very own Jennifer Phillips Russo.
If you see a Spotted Lanternfly:
1-Take a photo
2-Collect it
4-Report it
LERGP Podcasts- check them out!
LERGP POD CASTS

Lake Erie Regional Grape Program - Cornell Cooperative Extension
Your Trusted Source for Research-Based Knowledge