Year of Planting · Nutrient Management
Vineyard Nutrition
Just as animals require minerals and nutrients, plants also require minerals and nutrients for proper growth and fruit development and maturity. Soil type, pH, and drainage all play important roles in nutrient availability for vine uptake. The key elements in grape production are nitrogen (N), potassium (K), calcium (Ca), phosphorous (P), and magnesium (Mg) (Table 1).
Table 1. Essential nutrients used by 3-year-old Concord vines measured in pounds/acre.
The bulk of available nutrients comes from the soil itself, followed by any soil amendments, roots, leaf area, and supplemental fertilizers (Figure 1). Soil type will dictate the quantity of nutrients present, as well as the adequacy of water drainage, which, in turn, affects nutrient availability. Soil composition, such as soil pH (Figure 2), texture, and drainage, affects how readily available the nutrients are for root uptake. Root structure – depth of rooting, microbial activity near roots, and root type (rootstock) – plays an important role in nutrient uptake, as this is the first entry point for nutrients in the vine (Figure 3). Well-drained soils with little compaction will allow for adequate root growth and development, leading to optimal nutrient uptake. Balancing fruit and shoot demands with photosynthetic production will enable vines to be most efficient in nutrient use. Finally, supplemental fertilizers are used as a readily available resource for vine roots to maximize efficiency in short periods of time.
Figure 1. Avoid breaks in the nutrient-flow system from the roots to the shoots and vice versa. Ensure the soils have adequate drainage (or water, depending on location) and maintain balanced vines. 1) Start with proper site selection, complete with well-drained soils with high organic matter. 2) Prior to planting adjust the soil nutrient composition with nutrient amendments. 3) Be sure to select a proper rootstock for your site. 4) Maintain vine balance between fruit and shoot ratios for optimal fruit quality and vine health. 5) Maintain nutrient levels through soil/petiole testing and supplementation with fertilizers.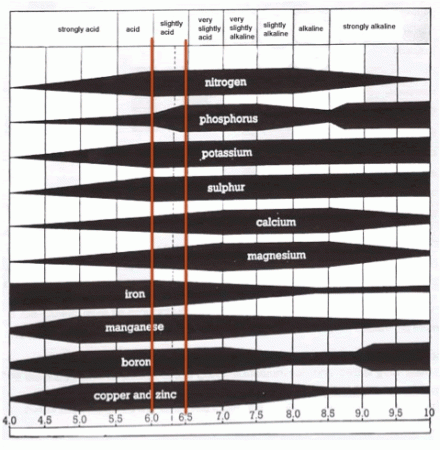 Figure 2. Soil pH is essential in vineyard nutrition management. Keeping soil pH within 6.0 and 6.5 maintains the highest levels of uptake by the vines of the majority of essential nutrients.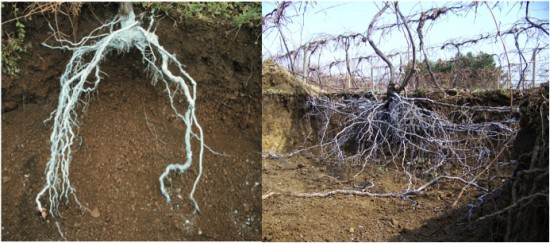 Figure 3. Root structure. Different rootstocks can have different rooting patterns - some can be deep (left) or shallow (right).
Key soil requirements to consider for wine grape production:
% Soil Organic Matter - 3%-5%
Soil pH - 6.0-6.5
Functional Rooting Depth - As deep as economically possible
Soil and Petiole Analyses - Year 2 and Beyond
Monitoring soil and petiole nutrient content for the lifetime of a vineyard should become part of an annual (petiole) or every 3-5 year (soil) vineyard management program. While knowing soil composition is important in maintaining vine health, petiole testing will provide real-time nutrient levels within the vine. In other words, what is in the soil may not necessarily make it into the plant, and vine nutrient levels vary greatly year-to-year and even within a season, while soil nutrient composition usually changes over several years.
Most extension and research programs recommend that petiole testing be done at about 70-100 days after bloom; this is the time during which nutrient analysis laboratories can get the most accurate reading on the largest number of nutrients. Petiole testing around bloom is recommended if nitrogen levels appear to be a problem. Soil sampling and testing can be done at any time during the year, as long as the soil sent in is dry - the save on shipping costs and to enable more accurate results - and the majority of nutrient analysis laboratories require the soil type to be identified for each sample, so soil maps need to be at the ready when sampling!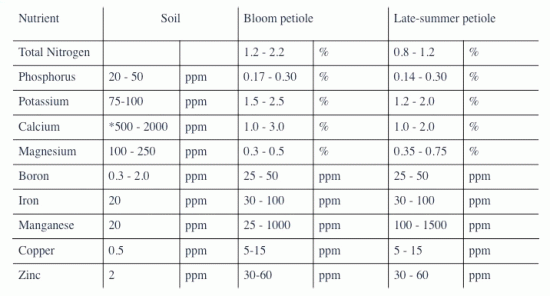 Table 2. Soil and petiole nutrient composition requirements. Keep vine levels within these ranges for optimal fruit quality and vine health.
References
Christensen, L.P., Dokoozlian, N., Walker, M.A., Wolpert, J.A. (eds.). 2003. Wine Grape Varieties in California. University of California, Agriculture and Natural Resources, Publication 3419.
Wolf, T. et.al. 2008. Wine Grape Production Guide for Eastern North America. Cooperative Extension NRAES:145.
---
Content by:
Dr. Terry Bates
Director, Cornell Lake Erie Research and Extension Laboratory
Senior Viticulture Research Associate, Cornell University Department of Horticultural Sciences
and
Dr. Jodi Creasap Gee
Viticulture Extension Educator
Lake Erie Regional Grape Program
Upcoming Events
2019 LERGP Winter Grape Grower Conference

March 13, 2019
8:00am-4:00pm
Fredonia, NY
Come spend the day with the LERGP team and fellow growers engaging in presentations, vendor trade show and conversation. Continental breakfast and a catered lunch are included in fee. Agenda will be available once complete. Giveaways and drawings for prizes!
Announcements
Vineyard Improvement Program Applications
Vineyard Improvement Program: An Application Guide
LERGP.com also has more information about the program. Frequently asked questions, eligibility requirements, sample budgets and business plans are all available.
Come Join Our Team!
Lake Erie Regional Grape Program Viticulture Extension Specialist Position Open-
The Lake Erie Regional Grape Program is an Extension team made up of collaborative efforts between Cornell and Penn State Universities and 5 county Extension offices. It is housed in Chautauqua County, NY in the middle of the Lake Erie Grape Belt, which runs from Niagara County, NY to Erie County, PA and consists of over 31,000 acres of grapes. This program partners with industry (Welch, National Grape, Constellation Brands, Walker's Wine Juice) to help to maintain and improve the vineyard operations in this region. The program is housed in a state of the art facility built in 2009. We work collaboratively with the Cornell Research team that currently is working on a 2.8 million dollar SCRI grant focusing on mechanized vineyard management and digital data collection, "Efficient Vineyard".
Areas of Work Interest:
Grower Education through traditional and innovative means
Vineyard Mechanization
Bud Hardiness
Vine Health
For more information or to apply, please use this link:
Tim Weigle, LERGP Team Leader 716-792-2802 thw4@cornell.edu
LERGP Podcasts- check them out!
http://lergp.com/podcasts/

Lake Erie Regional Grape Program - Cornell Cooperative Extension
Your Trusted Source for Research-Based Knowledge