Year of Planting · Nutrient Management
Vineyard Nutrition
Just as animals require minerals and nutrients, plants also require minerals and nutrients for proper growth and fruit development and maturity. Soil type, pH, and drainage all play important roles in nutrient availability for vine uptake. The key elements in grape production are nitrogen (N), potassium (K), calcium (Ca), phosphorous (P), and magnesium (Mg) (Table 1).
Table 1. Essential nutrients used by 3-year-old Concord vines measured in pounds/acre.
The bulk of available nutrients comes from the soil itself, followed by any soil amendments, roots, leaf area, and supplemental fertilizers (Figure 1). Soil type will dictate the quantity of nutrients present, as well as the adequacy of water drainage, which, in turn, affects nutrient availability. Soil composition, such as soil pH (Figure 2), texture, and drainage, affects how readily available the nutrients are for root uptake. Root structure – depth of rooting, microbial activity near roots, and root type (rootstock) – plays an important role in nutrient uptake, as this is the first entry point for nutrients in the vine (Figure 3). Well-drained soils with little compaction will allow for adequate root growth and development, leading to optimal nutrient uptake. Balancing fruit and shoot demands with photosynthetic production will enable vines to be most efficient in nutrient use. Finally, supplemental fertilizers are used as a readily available resource for vine roots to maximize efficiency in short periods of time.
Figure 1. Avoid breaks in the nutrient-flow system from the roots to the shoots and vice versa. Ensure the soils have adequate drainage (or water, depending on location) and maintain balanced vines. 1) Start with proper site selection, complete with well-drained soils with high organic matter. 2) Prior to planting adjust the soil nutrient composition with nutrient amendments. 3) Be sure to select a proper rootstock for your site. 4) Maintain vine balance between fruit and shoot ratios for optimal fruit quality and vine health. 5) Maintain nutrient levels through soil/petiole testing and supplementation with fertilizers.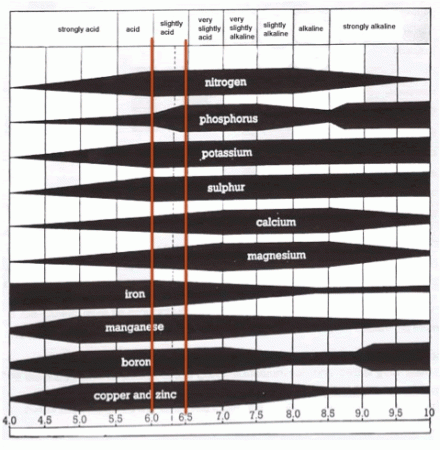 Figure 2. Soil pH is essential in vineyard nutrition management. Keeping soil pH within 6.0 and 6.5 maintains the highest levels of uptake by the vines of the majority of essential nutrients.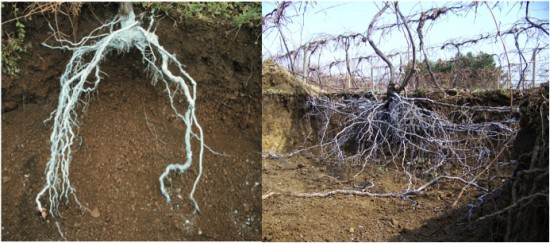 Figure 3. Root structure. Different rootstocks can have different rooting patterns - some can be deep (left) or shallow (right).
Key soil requirements to consider for wine grape production:
% Soil Organic Matter - 3%-5%
Soil pH - 6.0-6.5
Functional Rooting Depth - As deep as economically possible
Soil and Petiole Analyses - Year 2 and Beyond
Monitoring soil and petiole nutrient content for the lifetime of a vineyard should become part of an annual (petiole) or every 3-5 year (soil) vineyard management program. While knowing soil composition is important in maintaining vine health, petiole testing will provide real-time nutrient levels within the vine. In other words, what is in the soil may not necessarily make it into the plant, and vine nutrient levels vary greatly year-to-year and even within a season, while soil nutrient composition usually changes over several years.
Most extension and research programs recommend that petiole testing be done at about 70-100 days after bloom; this is the time during which nutrient analysis laboratories can get the most accurate reading on the largest number of nutrients. Petiole testing around bloom is recommended if nitrogen levels appear to be a problem. Soil sampling and testing can be done at any time during the year, as long as the soil sent in is dry - the save on shipping costs and to enable more accurate results - and the majority of nutrient analysis laboratories require the soil type to be identified for each sample, so soil maps need to be at the ready when sampling!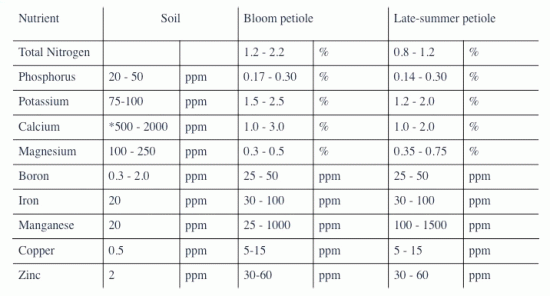 Table 2. Soil and petiole nutrient composition requirements. Keep vine levels within these ranges for optimal fruit quality and vine health.
References
Christensen, L.P., Dokoozlian, N., Walker, M.A., Wolpert, J.A. (eds.). 2003. Wine Grape Varieties in California. University of California, Agriculture and Natural Resources, Publication 3419.
Wolf, T. et.al. 2008. Wine Grape Production Guide for Eastern North America. Cooperative Extension NRAES:145.
---
Content by:
Dr. Terry Bates
Director, Cornell Lake Erie Research and Extension Laboratory
Senior Viticulture Research Associate, Cornell University Department of Horticultural Sciences
and
Dr. Jodi Creasap Gee
Viticulture Extension Educator
Lake Erie Regional Grape Program
Upcoming Events
No Coffee Pot Meeting This week

June 7, 2023
LERGP Coffee Pot Meeting #6

June 14, 2023
Westfield, NY
Come join us for timely and pertinent vineyard discussion, coffee, donuts and camaraderie.
LERGP Coffee Pot Meeting #7

June 21, 2023
Ransomville, NY
Come join us for timely and pertinent vineyard discussion, coffee, donuts and camaraderie.
Announcements
July 19th Coffee Pot Meeting CANCELLED
Please accept our apologies as we found this meeting in direct conflict with other unavoidable events.
NYWGF presents Introduction to New York Wine
Welcome to New York! Introduction to New York Wines
Building on the success of the newly updated New York Wine Reference Guide, NYWGF is pleased to bring comprehensive, expertly delivered New York wine education to your team each week from April 25th through June 20th, 2023. We welcome you to join wine writer and educator Dan Belmont as he leads this nine (9) part series - completely free for NYWGF Winery and Grower Members.
From our first 90-minute 'deep dive' into the wines of New York, to the subsequent 60- minute sessions on our major varietals and wine regions, this educational opportunity will be unlike any other and extremely valuable to winery and vineyard leaders, tasting room and marketing staff, as well as to trade, media, and consumers who are champions of New York wine. Tasting components are part of each session - with recommended wines for each session to be announced in advance of the seminar date.
IN THIS SESSION:
We agree with Eric Asimov who noted in the New York Times that "New York is the third largest wine- producing state in the country, after California and Washington. Yet it doesn't get nearly the respect it deserves." Fortunately, much has changed in the last few years and information about New York wines is being sought out by all levels of consumer, trade, and media. This session will empower you with knowledge and introduce you to the major regions, grapes, and styles of New York State wine, and provide an overview of statewide geography, geology, climate & history. Participants will gain conversational-level broad knowledge of New York State wine and leave excited about the upward trends in both quality winemaking and viticulture in New York State.
TASTING:
Arrowhead Spring Chardonnay 2021 (Niagara)
Boundary Breaks Dry Riesling 2021 (Finger Lakes)
Mazza Chautauqua Cellars Gew?rztraminer 2017 (Lake Erie)
Benmarl Winery Estate Cabernet Franc 2018 (Hudson Valley)
Macari Merlot 2019 (Long Island)
Vesco Ridge Diamond (Champlain Valley)
Meadowdale Winery Blue Jay Dechaunac (Upper Hudson)
Please Note: Suggested wines for tastings must be purchased separately and are not included with registration.
Tomorrow! Tue, April 25, 2023 9:00 AM - 10:00 AM EDT
Click Here to Register
Sessions are free for all NYWGF Members. Attendees must register for the full series and will be provided with seminar recordings if unable to attend live.
About our Host: Dan Belmont
Dan BelmontDan is a London-based certified American Wine Expert and holds a Level-3 certification in Wines & Spirits from the WSET. He led the education departments of NYC's famed Murray's Cheese, the largest artisan cheese retailer in the US, and Bedales of Borough, a trio of wine bars based in London's historic markets. Dan is the Wine Ambassador for Liebherr UK and proudly supports the New York Wine & Grape Foundation along with a variety of international trade associations and producers as a presenter, educator & judge. In 2022 he authored the latest edition of the New York State Wine Reference Guide. Dan operates in constant awe of the good people who dedicate themselves to the odyssey that is producing good wine. It is in that spirit that he created Good Wine Good People - a unique e-commerce wine retail platform serving the UK market.
Straight Talk: Is H-2A Working Out in the Vineyard
Check out the story below. Our local grower Andy Knight is one of the 3 growers interviewed.
https://www.growingproduce.com/fruits/grapes/how-h-2a-is-working-out-in-the-vineyard/
2023 LERGP Coffee Pot Schedule
2023 LERGP Coffee Pot Meeting Schedule
May 3, 2023 10:00am Double A Vineyards
10317 Christy Rd. Fredonia NY 14063
May 10, 2023 10:00am Niagara Landing Wine Cellars
4434 Van Dusen Rd. Lockport NY 14094
May 17, 2023 10:00am John Schultz & Sons
9510 Sidehill Rd. North East PA 16428
May 24, 2023 10:00am Brian Chess Farm
10289 West Main Rd. Ripley NY 14775
May 31, 2023 10:00am Sprague Farms
12435 Versailles Rd. Irving NY 14081
June 7, 2023 10:00am NO COFFEE POT MEETING
June 14, 2023 10:00am Betts' Farm
7365 East Route 20 Westfield, NY 14787
June 21, 2023 10:00am Paul Bencal Farm
2645 Albright Rd. Ransomville NY 14131
June 28, 2023 10:00am Gary Young Farm
8401 Gulf Rd. North East PA 16428
July 5, 2023 10:00am NO COFFEE POT MEETING
July 12, 2023 10:00am Zach & Alicia Schneider Farm
771 Bradley Rd. Silver Creek NY 14136
July 19, 2023 10:00am Schultze Winery
2090 Coomer Rd. Burt NY 14028
July 26, 2023 10:00am Westfield Ag & Turf
7521 Prospect Rd. Westfield NY 14787
Spotted Lanternfly Public Service Announcement
Please take a look at this PSA on YouTube. It is narrated by our very own Jennifer Phillips Russo.
If you see a Spotted Lanternfly:
1-Take a photo
2-Collect it
4-Report it
LERGP Podcasts- check them out!
LERGP POD CASTS

Lake Erie Regional Grape Program - Cornell Cooperative Extension
Your Trusted Source for Research-Based Knowledge