2-years Pre-plant · Review Soil Maps
Like gardening in your backyard, soil composition and structure are important in wine grape production. Luckily, soil maps are easy to access, whether through the USDA Web Soil Survey, or books from your local extension office. (See following 3 images below).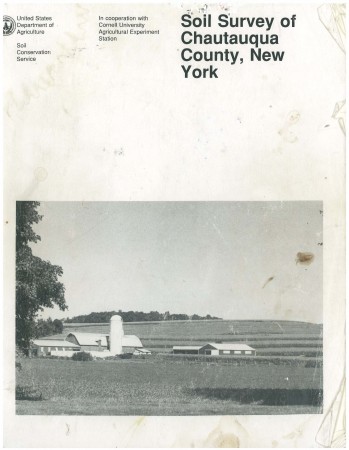 figure 1: soil survey
Gravelly, well-drained soil is ideal in grape production, because grapevine roots do not want to be submerged in water. On the flip side, too-well-drained soil can create an issue with nutrition, as in, the soil organic matter might be too low to sustain wine grape production.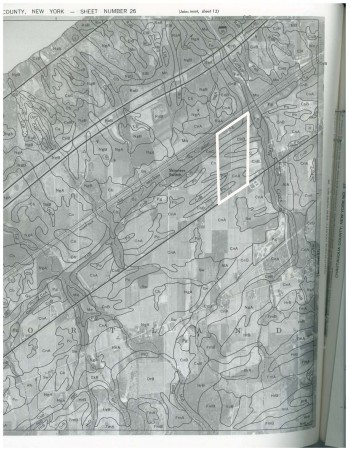 figure 2: A soil map of the Cornell Lake Erie Research and Extension Laboratory (CLEREL) in Portland, NY from the Soil Survey of Chautauqua County, New York compiled by the USDA and the Soil Conservation Service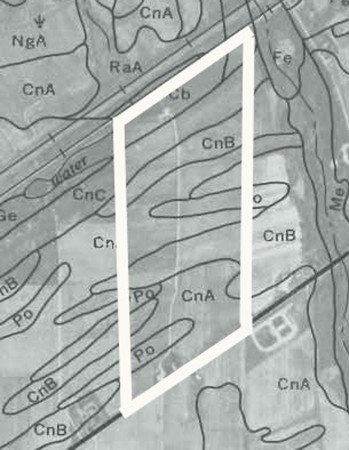 figure 3: A close-up of the CLEREL site shows the different soil types.
The soil is mostly well-drained Chenengo (CnA/CnB).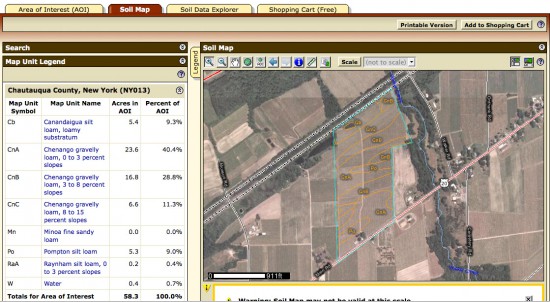 A CLEREL soil map from the USDA Web Soil Survey site
Soil maps can also provide and excellent base for your vineyard maps. If there are two different soil types at your site, consider planting one block of vines to each soil type, IF this is also practical. Nutrient management will be much easier once you are aware of possible drainage or nutrient differences. Finally, when you submit soil samples, you will need to enter the soil type on the form for the soil tests and for more appropriate recommendations.
---
Content by:
Dr. Jodi Creasap Gee
Viticulture Extension Educator
Lake Erie Regional Grape Program
Upcoming Events
LERGP Coffee Pot Meeting #13
July 28, 2021
Please come join the LERGP team for discussion on your vineyards. NY and PA pesticide credits have been applied for.
LERGP IN PERSON Coffee Pot Meeting w/ Lunch
August 3, 2021
Ripley, NY
LERGP In Person Meeting w/ Lunch
Announcements
Assess Your Freeze Damage
Assess Your Freeze Damage with a MyEV data Collector- By Terry Bates
Freeze damage acro
ss eastern U.S. vineyards was highly variable this week depending on the stage of bud development, air temperatures, and vineyard location. Assessing bud damage over the next two weeks will help growers determine the size and variation in crop potential, adjust management practices, and record damage for crop insurance. In this video, Terry Bates shows you how to set up and use a MyEV data collector and a smartphone to collect and map freeze damage observations in your vineyard.
Recorded Coffee Pot Meetings
You may not be able to obtain Pesticide License Recertification points but you can gain plenty of valuable information by watching the
coffee pot meetings if you missed them! We have had some special guest speakers sharing valuable information with us!
Click the link below for access to all of the recorded LERGP Coffee Pot Meetings!
Recorded LERGP Coffee Pot Meetings
Hand sanitizer and Masks Still Available
Hand Sanitizer and Face Masks Still Available
It's not too late! If you haven't picked up your free NYS Clean hand sanitizer and washable Hanes masks, you still can. All farms in New York are eligible to request supplies. Click on this
link
to make the request. We will set up a time for you to come pick up the supplies at CLEREL in Portland.
LERGP Podcasts- check them out!
LERGP POD CASTS
Loaner Sensor Program
The loaner sensor program will not be available this growing season in light of the COVID -19 protocols. We offer our sincere apologies

Lake Erie Regional Grape Program - Cornell Cooperative Extension
Your Trusted Source for Research-Based Knowledge