2-years Pre-plant · Review Soil Maps
Like gardening in your backyard, soil composition and structure are important in wine grape production. Luckily, soil maps are easy to access, whether through the USDA Web Soil Survey, or books from your local extension office. (See following 3 images below).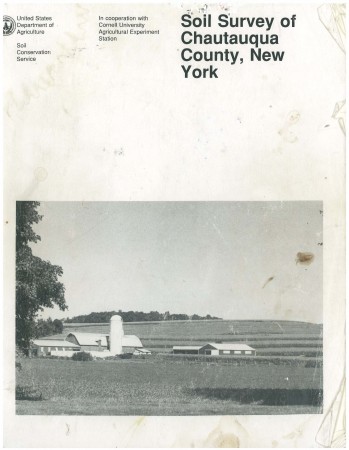 figure 1: soil survey
Gravelly, well-drained soil is ideal in grape production, because grapevine roots do not want to be submerged in water. On the flip side, too-well-drained soil can create an issue with nutrition, as in, the soil organic matter might be too low to sustain wine grape production.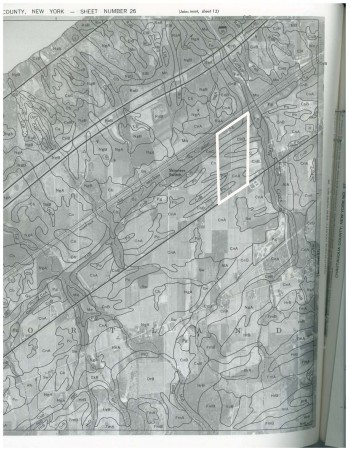 figure 2: A soil map of the Cornell Lake Erie Research and Extension Laboratory (CLEREL) in Portland, NY from the Soil Survey of Chautauqua County, New York compiled by the USDA and the Soil Conservation Service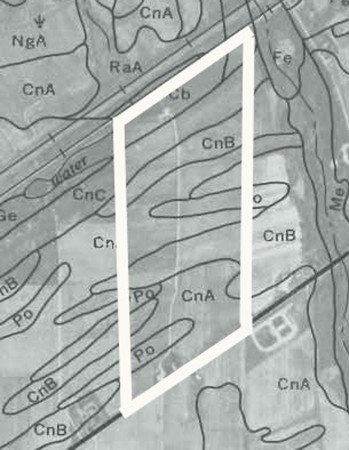 figure 3: A close-up of the CLEREL site shows the different soil types.
The soil is mostly well-drained Chenengo (CnA/CnB).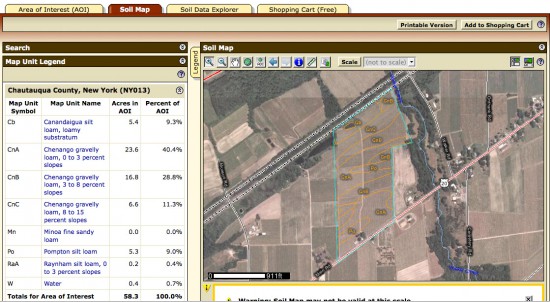 A CLEREL soil map from the USDA Web Soil Survey site
Soil maps can also provide and excellent base for your vineyard maps. If there are two different soil types at your site, consider planting one block of vines to each soil type, IF this is also practical. Nutrient management will be much easier once you are aware of possible drainage or nutrient differences. Finally, when you submit soil samples, you will need to enter the soil type on the form for the soil tests and for more appropriate recommendations.
---
Content by:
Dr. Jodi Creasap Gee
Viticulture Extension Educator
Lake Erie Regional Grape Program
Upcoming Events
2018 LERGP Winter Grape Grower Conference

March 14, 2018
8:00am-4:00pm
Fredonia, NY
Come spend the day with the LERGP team and fellow growers engaging in presentations, vendor trade show and conversation. Continental breakfast and a catered lunch are included in fee. Agenda is available. Giveaways and drawings for prizes!
Core Pesticide Training and Pesticide Applicator's License Exam

March 28, 2018
9:00am-4:00pm
Portland, NY
CORE TRAINING
WHEN: 9 AM to 12:15 PM
WHERE: CLEREL Meeting room
COST: $15
3.0 Pesticide recertification credits in the CORE category have been applied for. The CORE training session is also designed as a review prior to taking the Commercial or Private Pesticide Applicator exam but is not required prior to taking the exam. Preregistration for the training using the enclosed course registration form is required by March 26, 2018.
LERGP Coffee Pot Meeting

May 2, 2018
10:00am
North East, PA
Come join the LERGP team and fellow growers for pertinent discussion on what is happening in your vineyard right now.

Lake Erie Regional Grape Program - Cornell Cooperative Extension
Your Trusted Source for Research-Based Knowledge